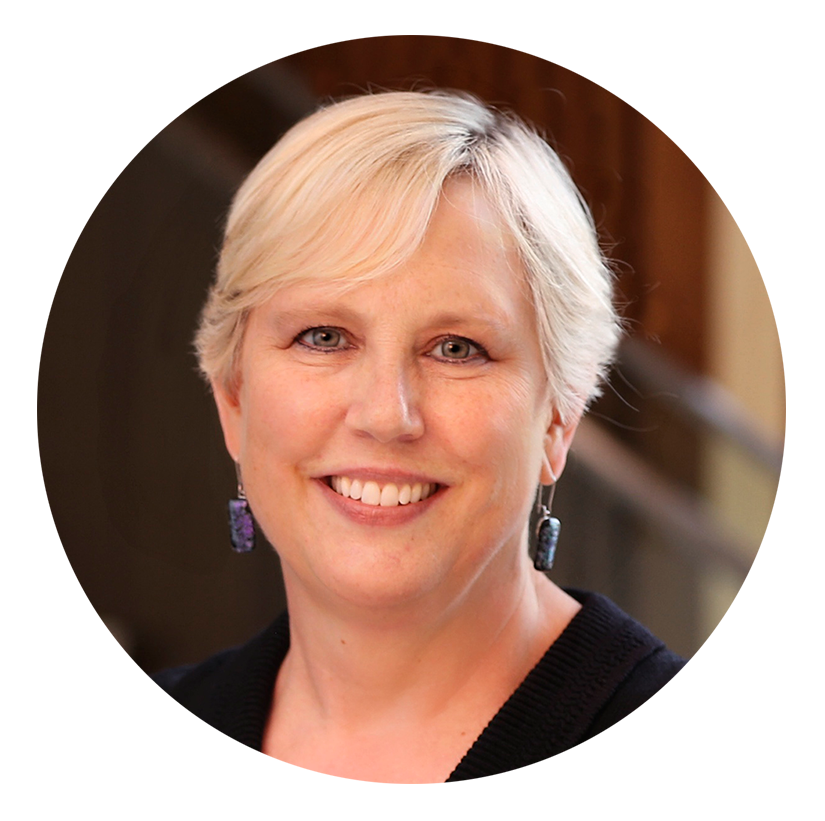 A Conversation with Susan Parish, MSW, PhD, dean of the Virginia Commonwealth University College of Health Professions.
"As a public institution, VCU is a powerhouse urban research university with longstanding commitments to supporting students from all backgrounds," she says. "We have many first-generation college students. I deeply believe in our mission of giving all students access to excellence."
Her own research focuses on the health and well-being of children and adults with disabilities and their caregiving families. "I am fundamentally interested in the intersections between disability, poverty, and racism," says Parish.
The Partnership: EYP, a Page company (EYP/Page) was the architect for Virginia Commonwealth University's $87.3-million, eight-level College of Health Professions Building, which opened in 2019 and allowed the college to bring all its academic health programs under one roof for the first time. EYP/Page also was the architect for VCU's Brandt Hall and renovations on Hibbs Hall and the Hunton Student Center.
Three Things to Know about Preparing Students for Careers in Health Care
1. Plenty of jobs are available right now in healthcare professions—and more are coming. Overall employment in health care is projected to grow 13 percent over the next decade, resulting in about 2 million new jobs. Healthcare worker shortages continue to be a concern throughout the United States. "The challenge we face is that we can't graduate students fast enough to keep up with demand from the healthcare sector," Parish says. "In most of our departments, 100 percent of our students have jobs within two to three months of graduation — some before graduation."
2. To meet demand, health professions students must receive support. "The thing that keeps me up at night is the affordability of our programs. I am constantly looking for ways to reduce the cost and burden for our students," says Parish. "Many of our students don't have significant resources. It's expensive to attend college and graduate school. We need to make it possible for our students to graduate without massive debt. I'm inspired by our alumni and friends who create scholarships and make it possible for some of our students to pursue their dreams of becoming health professionals."
3. The best way to teach health professionals is by fostering collaboration and innovation. Just as health professionals work together to provide integrated care, health professions students should learn together as well, says Parish. VCU's new Health Professions building co-locates the college's academic programs for the first time. "We use our new building as a platform not only to provide interprofessional education but to increase research spanning multiple disciplines," says Parish.
A Deeper Dive
Before Susan Parish came to Virginia Commonwealth University in summer 2019, she was a public health researcher and dean of the Bouvé College of Health Sciences at Northeastern University in Boston. "I fell in love with VCU's mission. The University is extremely diverse across race, ethnicity, and economic status," she says. "When this opportunity came up, I was really excited."
As dean of the College of Health Professions, Parish leads a team of faculty and staff who are "creating new knowledge as they educate students" in physical therapy, nurse anesthesia, health administration, rehabilitation and mental health counseling, patient counseling, occupational therapy, clinical lab sciences, gerontology, radiation sciences, and interdisciplinary health sciences.
Parish says looming workforce shortages in health care require building up the pipeline of interested students prepared to enter the field and serve patients and communities. "Healthcare workforce shortages didn't start with COVID and aren't going to end when COVID ends," she says.
Better Together
The new Health Professions building opened a few months before Parish arrived. Previously, the Health Professions College's nine departments had been scattered across both campuses and multiple locations. "A lot of our people didn't know each other and had never worked together, so the new building really enables collaboration," she says. "Having a dedicated College building also allowed us to grow our enrollment and train additional professionals, which is incredibly important due to the employee shortages across health care."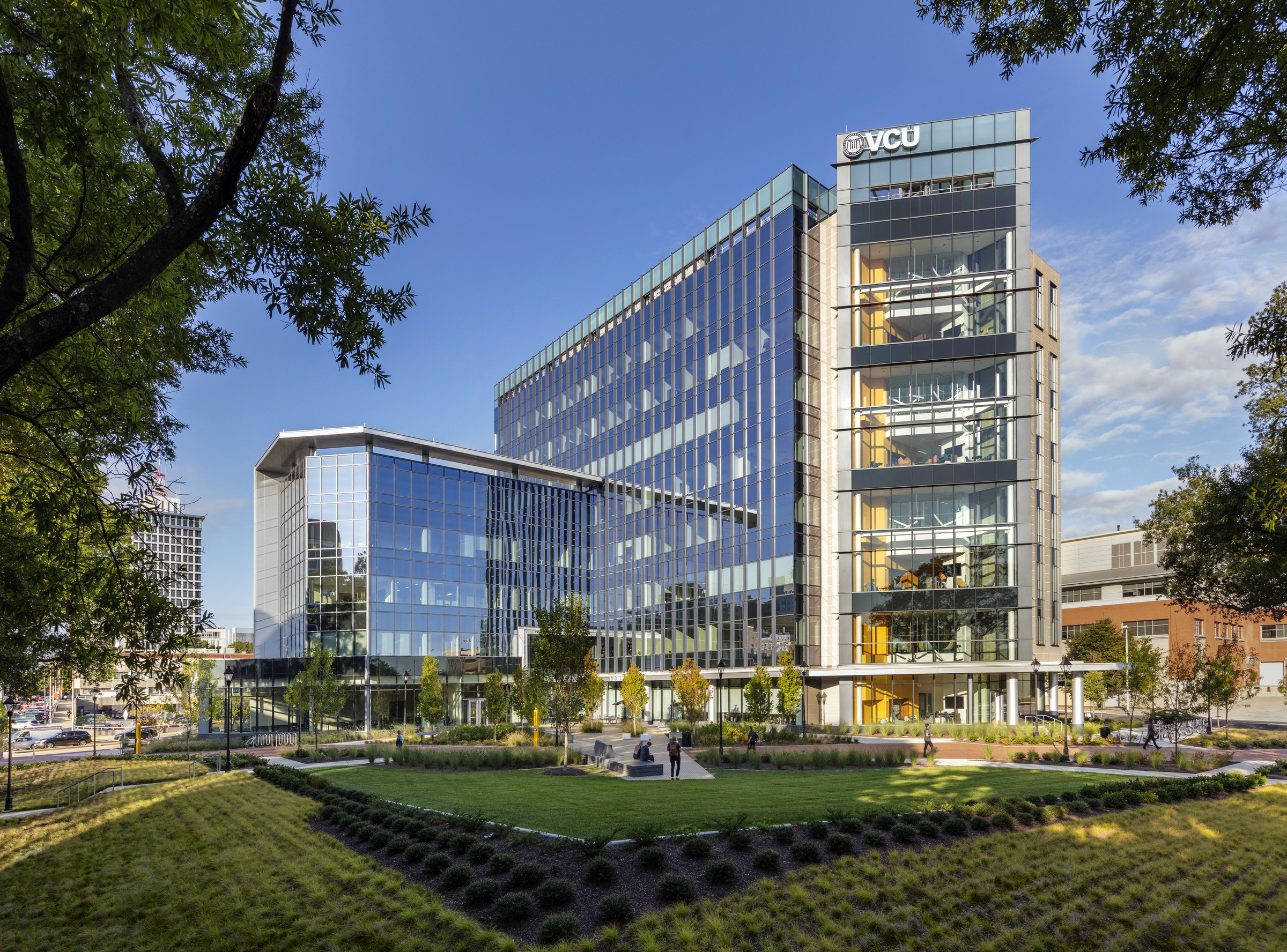 With a west-facing eight-story wing and a south-facing four-story wing, the building's common lobby serves as a welcoming living room, offering comfortable seating and informal gathering spots. A large auditorium can accommodate students from all the health disciplines.
Classrooms maximize flexibility and allow for distance learning, and there are simulated hospital rooms, surgical suites, and rehabilitation units for students to practice their craft. A "smart apartment" allows students to train in assisting children and adults with limited mobility. Lab space abounds with ample wet-bench spots and, for radiation sciences, the latest technologies such as a radiographic fluoroscopic unit and hot lab instruction.
The new building has also boosted faculty recruitment and research, she says. "We've seen a strong increase in interdisciplinary research grants and new ways of teaching, which I attribute to disparate disciplines sharing the same space," she says. "The new building is both gorgeous and highly functional. At the end of the day, the most important thing we do is to effectively teach our students, and they love it."
Tech transformation
Technologies such as the simulation labs and virtual reality tools have transformed how students are trained, says Parish: "Our building includes patient rooms, a full apartment, two operating rooms, two recovery rooms. This variety of classrooms enable students to experiment and make mistakes, learn from them, and perfect their skills before clinical rotation and delivering care to real patients."
The College's "smart apartment" includes a kitchen, bathroom, bedroom, and living room, and allows occupational therapy and gerontology students to learn how to enable people with functional disabilities and impairments to be as independent as possible, using adaptive equipment. "For example, an elderly person struggling with arthritis who can't open the blinds can be more independent with technology that accomplishes the task for her," Parish says. "The apartment is fully connected to smart devices, so the blinds, lights, and TV all are voice activated."
The pandemic accelerated the use of telemedicine, she says, so training of students now includes content on how to provide care at a distance.
Another component is distance learning. "We use technology to teach students not on campus in synchrony with our on-campus students," she says. For instance, the College has medical laboratory science students in Abingdon, Va., who participate in the classroom remotely. "The two-way, interactive connection allows active participation in class, with students working in labs both in Richmond and Abingdon," she says. "Health systems in rural locations have been hit especially hard with workforce shortages, so training folks from those communities is vital."
Supportive partners
Alumni have been active supporters of the College. "Every donation helps," Parish says. "For instance, we established a student emergency fund right before COVID. This fund has enabled some of our students who face dire financial situations like job loss to remain in school."
Also, many alumni supervise students during their clinical rotations and field internships. "We work with alumni, health systems, and community partners to make this happen," Parish says.
"Having a dedicated College building also allowed us to grow our enrollment and train additional professionals, which is incredibly important due to the employee shortages across health care."
These placements give students real-world experience with patients before they graduate and allow students from different disciplines to work together while training, especially during clinical rotations. "Not just with other students from our College," Parish says, "but with students in medicine, nursing, and pharmacy as well."
Many people think only of doctors and nurses when they consider the health professions, but approximately 60 percent of the healthcare workforce are allied health professionals, says Parish.
"Providing excellent patient care and keeping communities healthy require expertise from the full range of health professionals," she says. "These include health administrators, who go on to lead medical practices, hospitals, clinics, and entire health systems—some of the largest in the US are led by our alumni. Gerontologists, rehabilitation counselors, mental health counselors, and chaplains working in health settings. Medical laboratory scientists, who perform testing on all manner of body tissues and fluids to provide information about conditions from COVID to cancer to hepatitis. And so many more — occupational and physical therapists, nurse anesthetists, diagnostic medical sonographers, radiation therapists, and researchers who are advancing health care."
For several years, many states have been reducing their support for higher education, says Parish. "But the people of Virginia invested $87 million in us by building our new Health Professions building, and we don't take that lightly," she says. "We have an enormous responsibility to repay Virginia's citizens by training the very best healthcare professionals. We work daily to ensure we are worthy of that investment."
Health Partner Insights is a continuing series where we tap the collective wisdom of our healthcare clients on current challenges, trends, and technologies.