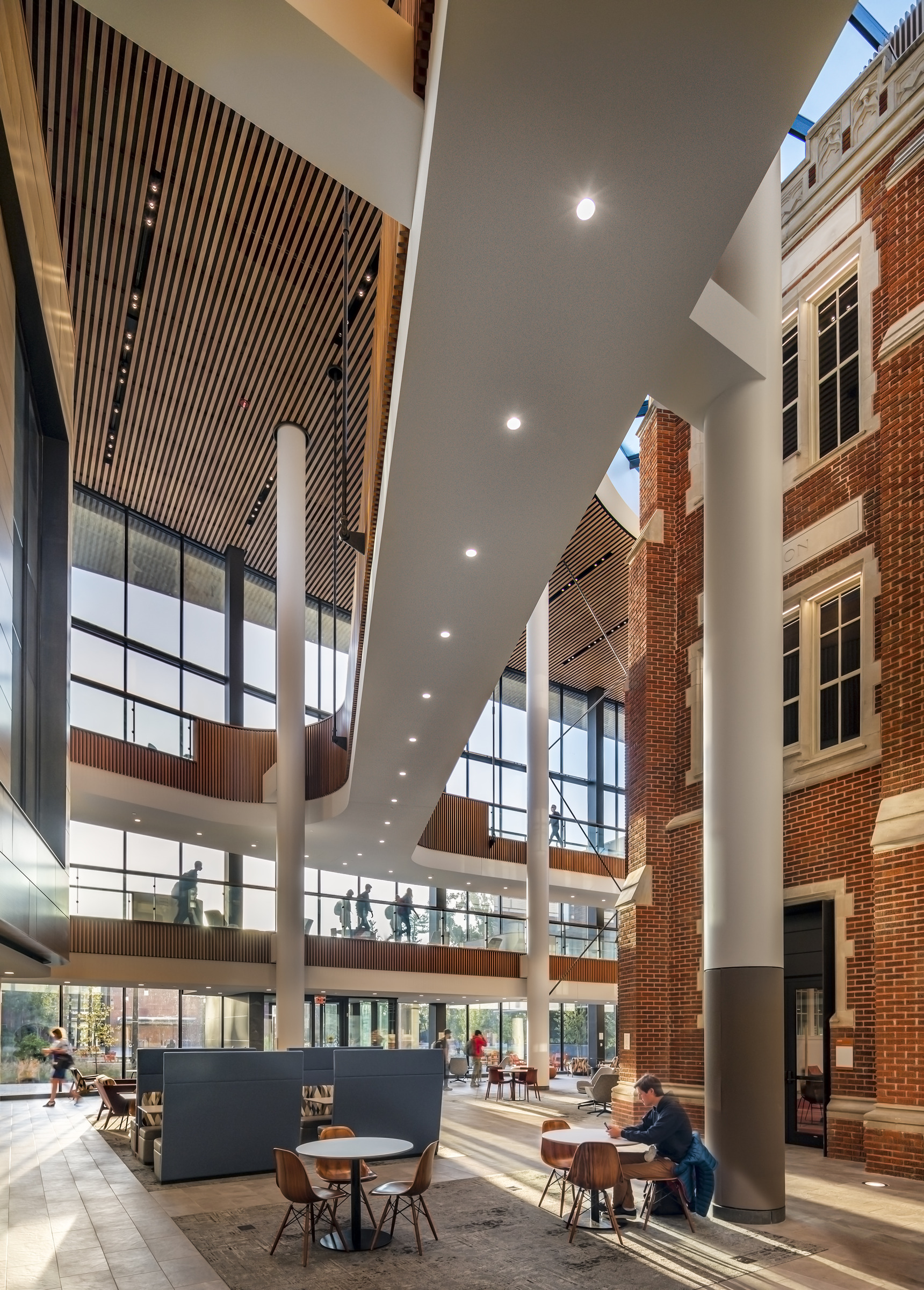 In October, Grinnell College dedicated its Humanities and Social Studies Center (HSSC). The three-story, 196,600-square-foot center was designed by EYP, a Page company (Page/EYP) and fully opened in 2021. National Director of Academic Planning Charles Kirby and Innovation & Strategy Design Principal Rob McClure attended the dedication ceremony.
The design of the HSSC is a 21st-century reimagining of what's possible for an academic building – while honoring and retaining the storied heritage of the school's Alumni Recitation Hall (ARH) and Carnegie Hall. With 52,000 GSF of modernized space, and 125,000 GSF of new construction, the Center brings 15 separate Humanities departments into one location. HSSC now provides 40 classrooms, 145 faculty offices, and includes four pavilions: two new North and South pavilions and the restored Carnegie and ARH pavilions. All four pavilions are connected via bridgewalks attached to the Center's focal point: a stunning, three-story atrium.
Rob was the second speaker during the dedication, touching on how the design of the center was guided by a goal to respect the historic campus context while boldly looking toward the future. In addition to its high form and function, the design for the Center outperforms the guidelines of the AIA 2030 challenge.

Senior economics and Chinese double major Jivyaa Vaidya, who serves as the Student Government Association's (SGA) vice president of academic affairs and is president of the International Student Organization, also spoke about the impact of the HSSC on the student experience:
"… The HSSC, with all its windowed walls, abstract furniture, quirky yet brilliant design, cozy nooks, and wonderfully well-equipped spaces … is loved. It has been loved since the first day it was opened to the students in 2019 and when it was re-inaugurated after its renovation in 2020.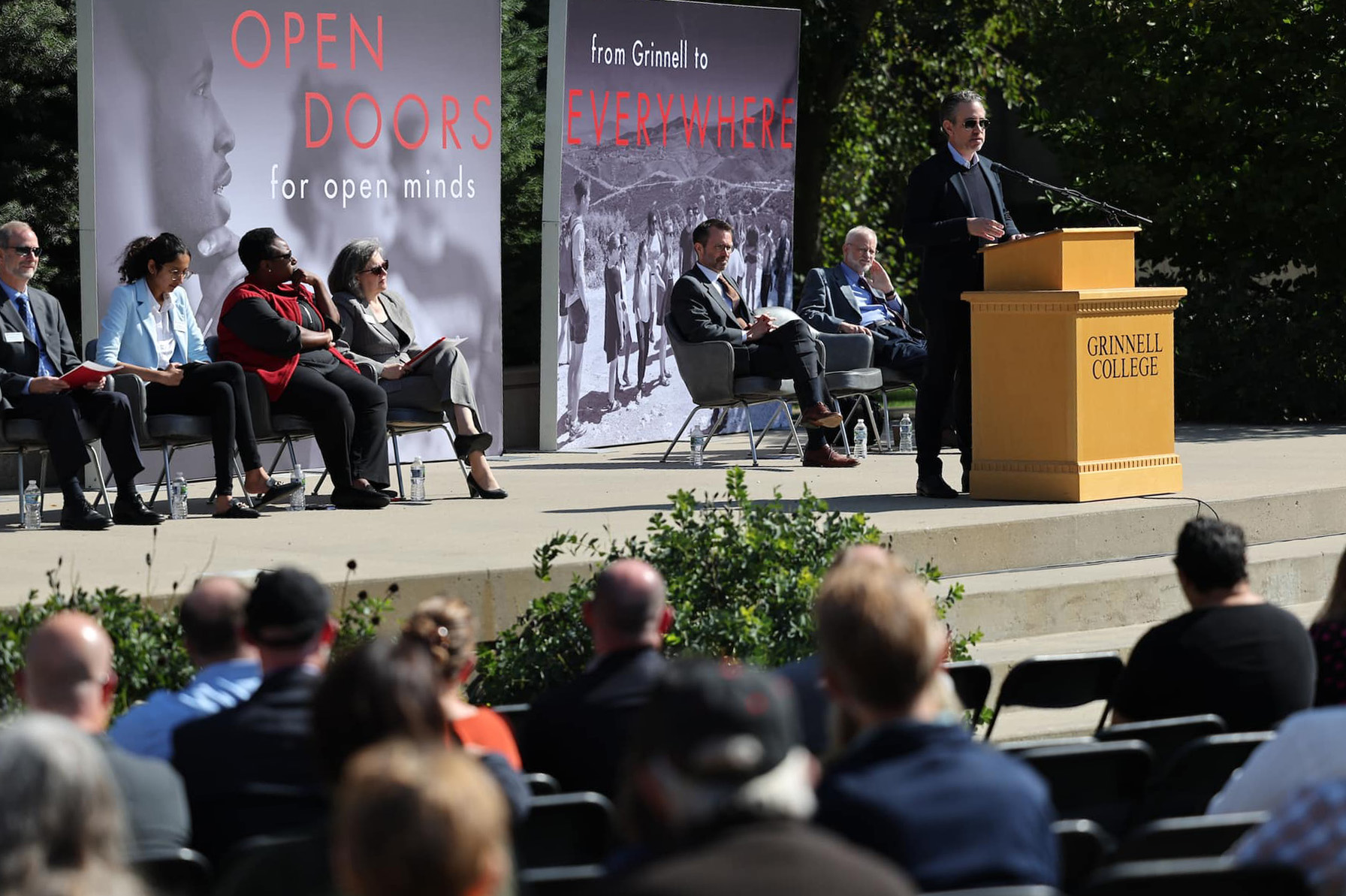 I think I can speak for the entire student population when I saythat the HSSC is something that we are all very grateful for. It is the building featured the most in our Instagram posts, the architectural marvel that looks the prettiest during an Iowa sunset, and the space that makes several students, including me, feel inspired, productive, and motivated."
Board of Trustees Chair Michael Kahn described the Center as "an enabler of vibrant teaching and learning":
[The HSSC] facilitates exploration through discussion, reflection, and conversation – through multimedia exploration and culinary adventures. It helps faculty find connection and collaboration outside of their departments. It provides a place where students can study in peace or work in a group – and for those informal interactions and late-night conversations that my fellow alumni say are such an important part of their time here.
By creating a building dedicated to the humanities and social studies, Grinnell College is declaring that these disciplines are timely and always relevant and critical for educating future leaders. This investment is entirely consistent with our mission. Grinnellians Go Forth, and in doing so prove that understanding peoples and cultures and societies is valued and valuable. Because that understanding is essential to solving the world's most critical problems."
Learn more about this project and explore the Center in 360 here.