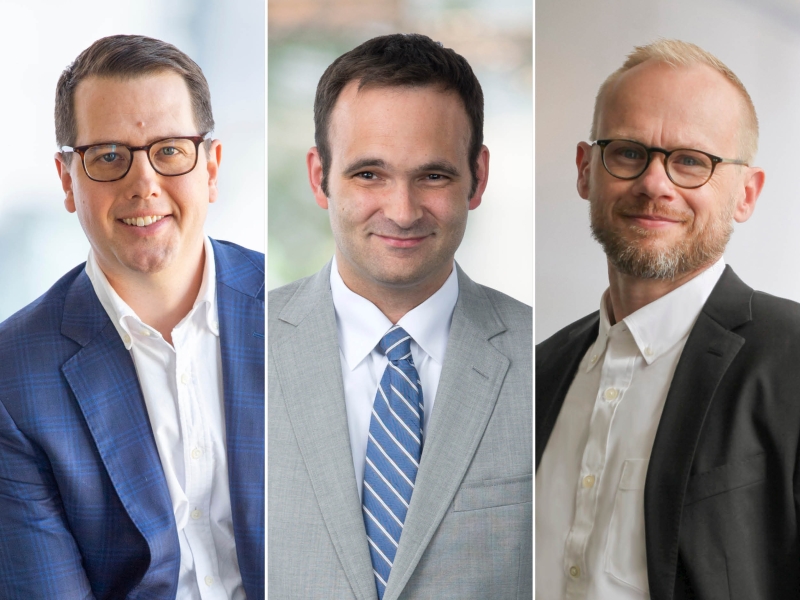 In 2019, three EYP team members, Cody Cartusciello, AIA/Dallas Managing Principal (right); Jonas Risén, Houston Lead Designer (left); and Danny Kelley, AIA/Houston Project Director (center), were selected out of an applicant pool of professional architects and designers from across the country, to participate in the inaugural AIA Leadership Academy. Designed as a three-year program, the Academy launched in 2020 and is facilitated by three professional coaches from The Growth Partnership.
Originally conceived as a mostly in-person program, participants enjoyed one early live meeting in 2020, but pivoted quickly to Zoom sessions due to the COVID-19 pandemic. This May, however, members of the Academy group were once again able to gather together in Raleigh, North Carolina.
Now, two-thirds of the way through their program, we sat down with Cody, Jonas, and Danny to find out what they're learning and how the Academy sessions are going.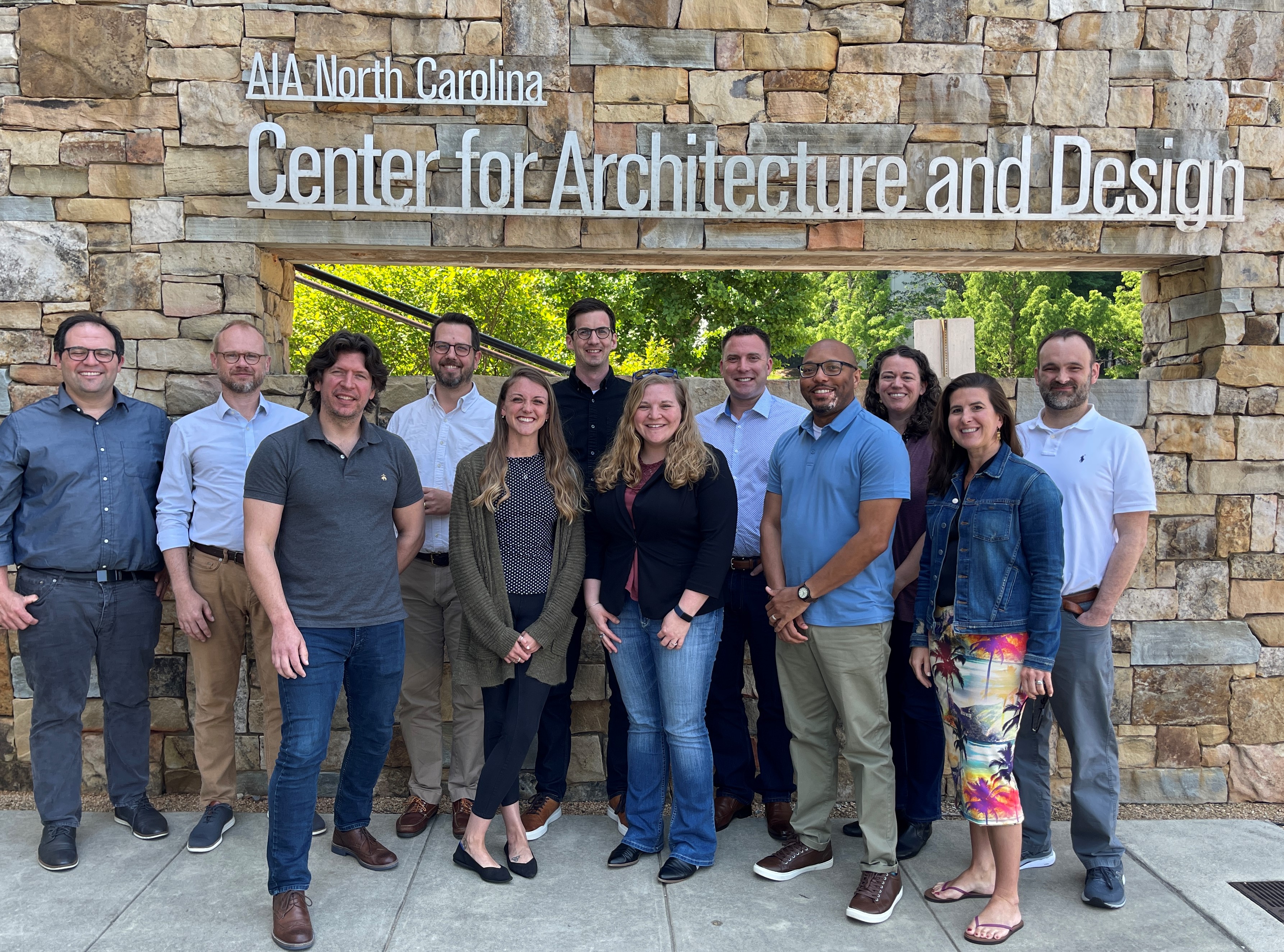 Leadership More Important Than Ever During Pandemic
Jonas: There's been value in having gone through this program during the pandemic. Seemly overnight, previous assumptions about office culture, work-life harmony, project management, and travel were up-ended. Our Class experienced these changes real-time, so group sessions became a forum for peers to share their personal and firm approaches to evolving conditions. Those perspectives had added value as an overlay to the course learning topics as real-world context. More recently the conversations have focused on opportunities created by developments like hybrid-work in the post-pandemic economy.
Leadership Learning
Cody: Training has covered myriad topics, including Unconscious Bias, Navigating the Economy, and The Reluctant Salesperson. The most recurring theme for throughout is the understanding that to meet the levels of success we desire in our office, and in the firm, leadership is truly about engaging more people, spreading the load, and empowering people to move higher in their careers. For example, with the Unconscious Bias sessions — learning to spot where I might be unconsciously leaning on the same people over and over again, or where I'm taking on a responsibility and not giving someone else the opportunity.
Danny: For me, the training has helped me be more conscious of how what's said can impact others. I have begun paying closer attention to how others might interpret what I'm saying. Another thing for me has been prioritizing the "big rocks." One of the coaches recommended that I watch Franklin Covey's 30/10 promise — which is taking 30 minutes each week to prioritize big rocks and then 10 minutes each day to review and adjust as necessary. That technique has helped me maintain focus on what I'm trying to accomplish short and longer term.
1:1 Coaching
Danny: One of the benefits and highlights of the program is the opportunity to have private, individual career coaching sessions. It provides an avenue to bounce ideas and discuss professional challenges with someone who is not involved in your day-to-day world. The coaches offer different perspectives to help you brainstorm and sort through ideas and solutions.
Jonas: Working with the coaches has helped me hone the skill of stepping back from the emotions of a situation. It's really wonderful to have someone who's an outsider available to give you a more strategic perspective that allows you to think big picture rather than being mired down in a particular issue. Being able to utilize the coaches over the past two years has been really helpful.
Leveraging Leadership
Cody: For me, leveraging the learning from this program is about narrowing my focus to what really matters. For example, in business development, there are so many potential RFPs to respond to — we could be chasing clients every day. But in the personal coaching I've received, they've helped me to work on identifying the strategic clients we want to focus on. The clients that make sense for us with our portfolio, background, and with the specific talents and passions of our staff, — putting those Franklin Covey so-called "big rocks" first. Then, if other opportunities pop up, great; but we're not burning up our team's time on pursuits that don't quite fit.
Danny: Stephen Covey 7 Habits teaches us to "seek first to understand; then seek to be understood." Leveraging this habit helps you stay focused, listening intently to what is being said and importantly, what's not being said.
Jonas: One eye-opening thing has been looking at what EYP already has in place with internal programs and strategies that already support mentorship. It's clear we're doing a lot already in comparison to our industry peers.
Leaders Mentoring Next-Gen Leaders
Cody: The AIA Leadership Academy takes internal mentorship to a whole new level. I'm excited that we were able to help kick this program off and looking forward to what the Academy can do for future generations of architects. Having recognition of the need for leadership development and have a unified, centralized Academy of resources for gaining those skills is way overdue for the architectural profession. Hopefully, 20 years from now, we'll see that this inaugural program has codified into a tradition of posterity for aspiring leaders.
Danny: "I was unaware of the program until I was approached by our Managing Principal. I've learned a lot about teaching others and having patience. My advice to individuals across all levels is don't let personality traits like shyness or a fear of failure prevent you from applying to the program.
Cody: "And, don't feel like you're too young or not experienced enough for this. Though there is a requirement of eight years' of experience to apply, there's a large variety in our group. Some participants are just getting licenses and others are owners of their own firms.
Jonas: I recommend this or a similar leadership program to anyone seeking to make positive changes in their organization and level-up their skill set – both in terms of individual leadership development and for the resulting effect on teams and on an office as a whole.
The AIA Leadership Academy is open to licensed AIA members in good standing, who have a minimum of eight years' experience in an architecture firm. Candidates are selected by a jury of their peers. To learn more, visit the AIA website.