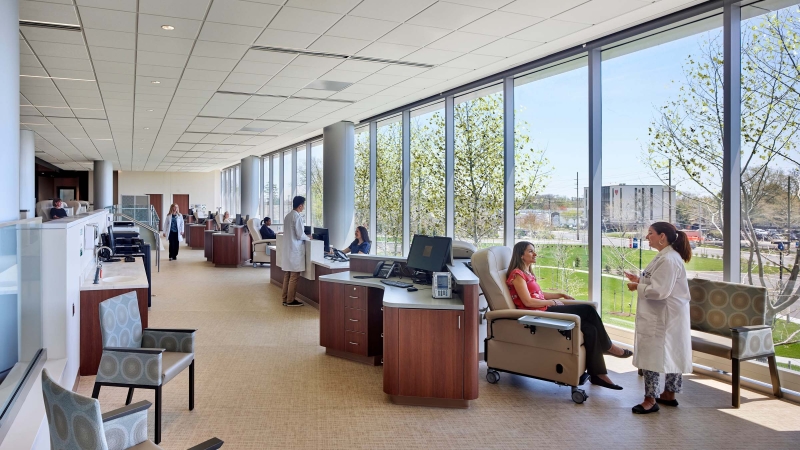 Infusion centers are places of hope: Hope that the IV therapy you are being given will fight back your disease. Hope that it will stimulate your body to be healthier. Hope that you won't need infusions for the rest of your life.
The design and aesthetics of infusion spaces, then, should assist patients in their quest to heal.
"What's most important is that we create an environment that is comfortable, supportive of the patient and family, and that is decidedly focused on what patients really want: a good journey from diagnosis to survivorship," says healthcare sector leader Kimberly Stanley, EYP Atlanta.
Globally, there is rising demand for infusion therapy, which is used to treat a multitude of diseases, including cancer, congestive heart failure, hemophilia, and autoimmune illnesses. The IV bags may contain antibiotics, antivirals, chemotherapy, corticosteroids, immunotherapy, or a cocktail of drugs.
Most who receive infusion treatments are hematology-oncology patients; of the non-HO patients, many are rheumatology patients. Infusion patients usually require repeated infusions, and typical treatments range from 30 minutes to eight hours. Until the 1980s, most infusion treatments were given in hospitals, but now they are also frequently given in specialty cancer centers, ambulatory infusion centers, doctor's offices, even at home.
What's important to patients?
Understandably, low wait times are a priority for infusion patients, according to surveys. Other priorities include: a close distance to home, skilled nurses and medical staff, and personalized attention. "I don't want to feel like a number," was a common response.
"I've come to realize with infusion bays, it's all about providing options," says project medical planner Renee Fiala, EYP Houston. "The most effective designs allow varying levels of privacy depending on the state of the patient: opportunities to be social or to be semi-private. Some days, infusion patients might not even feel like sitting up in the chair or having light in their face but prefer instead to lie on a stretcher in a private space."
For those who are feeling well enough and enjoy socializing, infusion centers can be lively places where patients chat with the staff and each other, create informal support groups, play chess or cards, or watch movies together to pass the time. They may even snap a selfie for the National Infusion Center Association #shareyourchair campaign.
Other patients value calmness and serenity during infusions, with semi-private bays facing gardens or wooded green views.
"A few things I've learned from past projects are that there are a lot of cool designs around open bays –ways to hide the bags and arrange the chairs for easy conversation as well as to give access to a screen or iPad, magazines, and books. Also important are low compartments for their belongings," says senior medical planner Haeoak Park, EYP Houston. "Another consideration is where the restroom is located and how long a walk it is."
The debate between privacy versus visibility is ongoing, says senior medical planner Sarah Walter, EYP Atlanta: "I've heard patients say that getting infusions can be like riding on an airplane. You're on board,
stuck there, maybe the person next to you wants to talk but you just want to sleep or read a book. The same solution for everyone is probably not realistic. Patients want more control over their experience."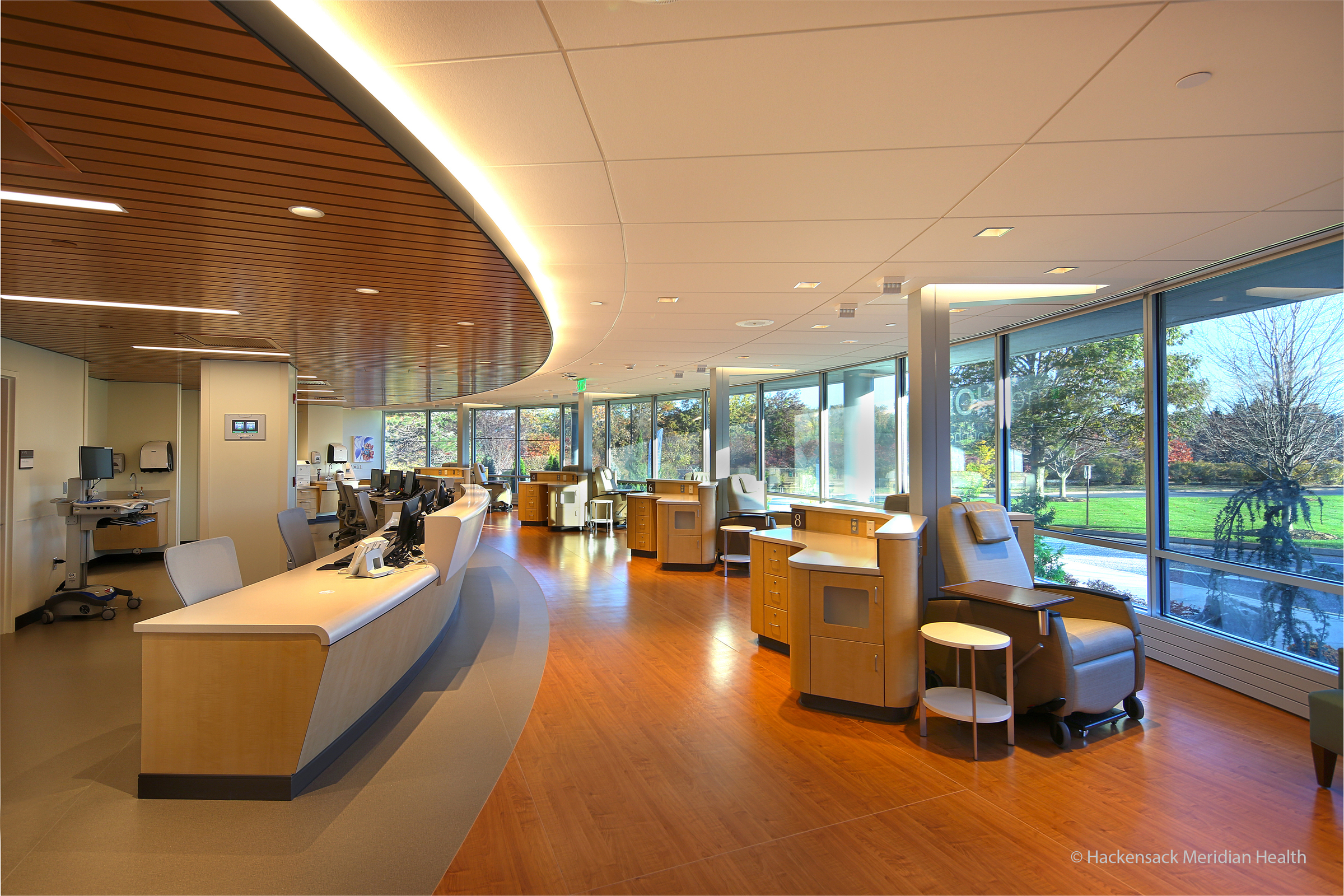 Are open bays safer?
Staffing models and infusion nurse-to-patient ratios vary widely, depending on federal and state regulations, inpatient or outpatient setting, the length of infusion and patient acuity. The pandemic has only compounded staffing issues.
Open bays can increase efficiency and safety, with medical staff able to do a quick scan of the infusion bays. If a patient faints, becomes ill, or has an allergic reaction to a drug, this could be noticed immediately.
"A client may want a row of chairs lined up in a completely open space, which enhances visibility for medical staff," says Renee. "When that is the case, we work toward a design that gives a feeling of openness. The chairs, for example, can be in front of large windows with beautiful views. At the same time, patients would have the option of screens or sliding partitions between the bays for privacy."
For patients who require intensive treatments like photopheresis and apheresis, used to treat leukemia and sickle cell among other diseases, a much longer stay and duration of infusion can be expected.
"We have designed spaces for special cancer care delivery models where we create a spa-like environment in a private room separate from the regular infusion bays," says senior medical planner Akshay Sangolli, EYP Denver. "Some even had fireplaces."
Other personalized touches include easily adjustable chairs that warm up, heated blankets, and radiant-heat flooring. "Infusion liquids can be cold or may make you feel chilled when you receive them," says Sarah. "Maybe you've lost your hair or are thin and prone to being chilly. We try to make the environment warm and cozy."
Complementary and alternative services are more commonly being offered, such as massage, acupuncture, wig shops, and meeting spaces for group education and support, right at the infusion center. "You have to look beyond the infusion bay to the whole experience," says Akshay.
What does the future hold?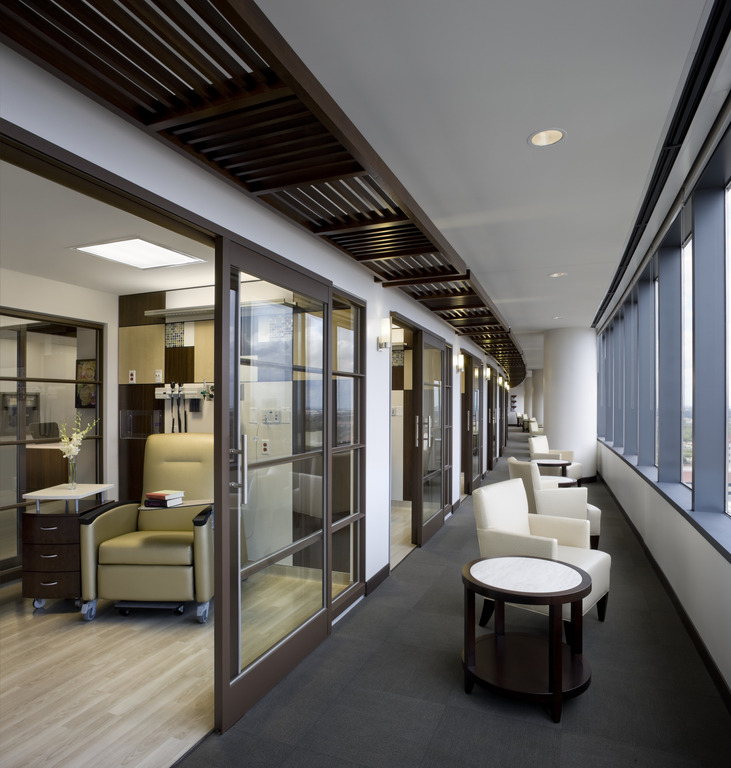 Advanced data science is enabling strategic scheduling, reducing wait times and high-volume patient surges, and allowing personalized infusion bags to be prepared ahead of time at on-site pharmacies.
For infusion patients, convenient parking and clear wayfinding are vital — and can begin with a notice on their smartphone of where to park and how best to get to the infusion center. "Some of these patients are extremely frail and fragile, and a fall would be very serious," Akshay says. "Operationally, whatever can be done to ease their visit should be done."
Infusion centers are putting together multidisciplinary teams from specialists to nutritionists, counselors, and physical and occupational therapists, says Haeoak, with an emphasis on family education and resources.
Cancer centers are embracing high-touch, patient-centered care like never before, in design and intent, says Sarah. "It's very important to one of my clients that patients feel as if they are always making
progress and moving through the facility in a forward flow, never going backward or being bounced around."
Some centers are allowing patients to take their infusions outside, as weather and other conditions permit, and more clients are asking for healing gardens for relaxation and stress relief for visitors and staff. Home infusion treatments have expanded since the pandemic began and are projected to continue as more patients are requesting them.
"So, what does this mean for the built environment?" asks Kimberly. "Possibly the infusion bay of the future is a multipurpose consult and diagnostic station where your genetic cocktail is formulated and the phrase 'from diagnosis to survivorship' becomes a reality."