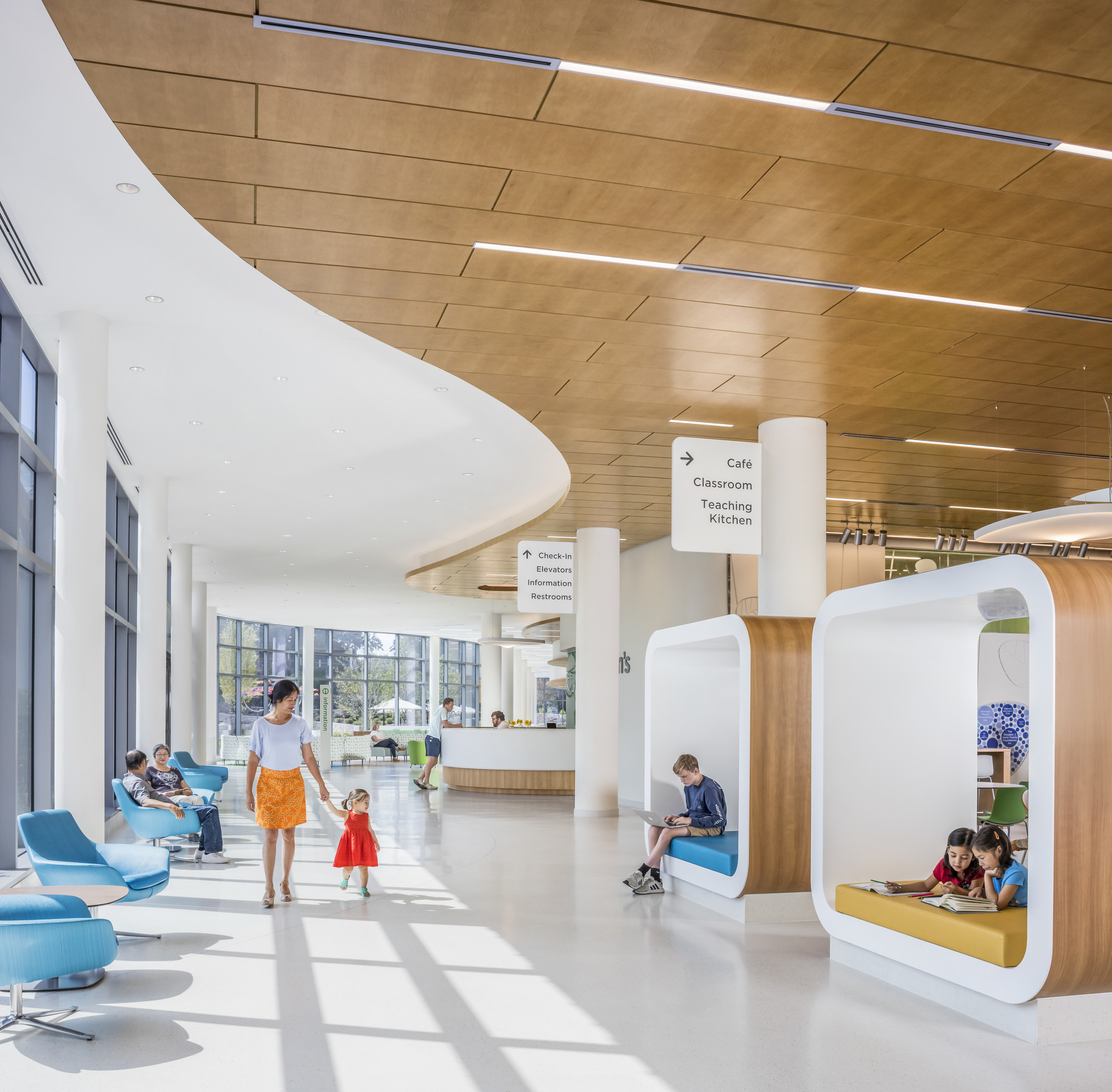 You stroll into the medical office building, early for your child's appointment, with some extra time to respond to that text you have been putting off. After signing in, you plop down in the open chair by the window and your toddler walks over to the small table in front of you, a size made just for him. You pull a few books off the shelf to keep him occupied while you wait. Your name gets called shortly after and you pick up your things, scoop up your toddler, and go.
Most people don't think twice about the furniture in the waiting room of the hospital or their doctor's office. It's a necessity – and if the furniture is done right, you might not even notice it.
As healthcare interior designers, though, one of the first and last things we think about in a project is furniture. We need to know the size of all the pieces to initially plan a space. And it acts as that last component that ties the room together.
                                                                                                                              I think about a core set of elements when specifying furniture for a project, aside from aesthetics. The best way to describe them: the "-abilities": durability, cleanability, and flexibility.           
Picture a waiting room chair—the frame, seat, back, fabric, glides, and maybe some arm caps. What is going to make this piece of furniture last? The first thing to think about, when analyzing durability, is how this chair will interact with the people using it in a specific environment. Selections must be made that can endure repeated contact, giving the chair the best chance of an increased life span. It's important to understand materials for this analysis. For example, a metal chair frame versus a wood frame—each material has pros and cons, but we must match that with client and user needs. In healthcare design, we often select metal frames and solid surface arm caps because they are durable, hardy materials. When selecting fabrics, the vinyls, silicones, and polyurethanes take the lead, and we verify the double rub count—a testing process that gauges how well a fabric will hold up.
Durability and cleanability can go hand in hand. Cleanability defines how well and often something can be cleaned or sterilized without damage. Think about all the surfaces in a healthcare setting that are touched every day by multiple people. Today's materials must be extra tough to withstand the harsh and repeated cleanings our current environment requires. Let's return to that chair with the upholstered seat and back. When selecting the fabric, we need to make sure it has been tested against the type of cleaning agents the facility uses—for example, a bleach compound. The material we select must be resilient to specific chemicals and methods of cleaning. A "clean-out" feature can also help mitigate accidental spills and grime in a high-traffic space. For our chair, this option could come in the form of a removeable seat or a gap between the seat and back, making cleaning easier.
 I think about a core set of elements when specifying furniture for a project, aside from aesthetics. The best way to describe them: the "-abilities": durability, cleanability, and flexibility.           
Flexibility is another significant element in furniture selection. Depending on the space we are designing, we might want to create a destination for users and include areas of respite or entertainment, with a variety of seating selections (some are required by code; others are simply nice to have). For instance: ganged seating, lounge chairs, high-top tables with bar-height seating, side tables with charging stations, small ottomans that can be moved around, and child-sized elements. Providing variety allows for a people/patient-first atmosphere and can meet several needs at once. Flexibility also allows adaptability, the capacity to modify on an as-needed basis. This enables your client to adapt furniture and finishings to their needs and to be responsive to ever-changing trends and requirements.
Fortunately for us as designers, a lot of commercial manufacturers are pushing the boundaries of the industry. We are seeing residential concepts feeding into commercial offices and hospitality concepts feeding into healthcare spaces. We are helping each other evolve and deliver new, creative, and most importantly, lasting designs for our clients.