Advances in technology, fueled by the safety and logistical challenges presented by the pandemic, bring new, exciting, and highly effective tools for architects and building project teams. 
At EYP,  where asking "What's Possible?" informs all aspects of our design practice, we've been utilizing Matterport technology with our joint venture teaming partner Loring Engineers to create detailed project records for reference throughout the design process. Matterport is bringing a new level of sophistication, retrievable information, time and cost savings, and insights into walk-throughs of existing buildings and recording during site visits at new construction sites.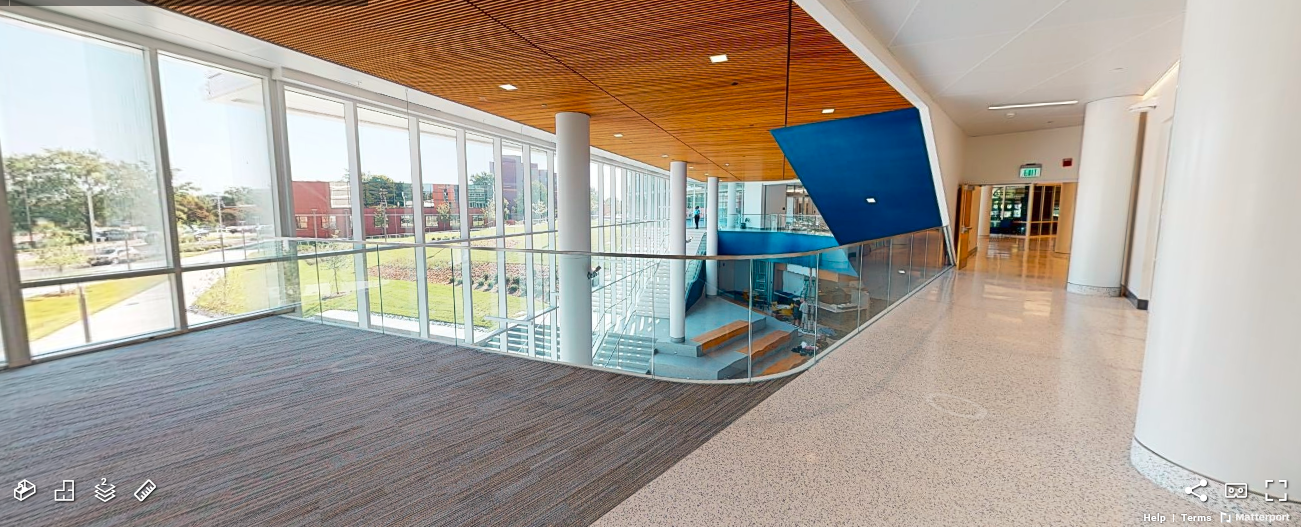 Matterport Expands Possibilities for Site Visits & Building Walk-Throughs 
While 3D modeling, rendering, and shared file structures have probably had the biggest impact on the field of architecture over the past 20 years, there have also been tremendous advances in the field of site surveys and documentation. The pandemic has made these survey tools an even more important part of our practice, as most of us are working remotely and the ability to visit projects has been hampered.  
Everyone has used Google Street Views to find a store or look at a street never before visited to get an idea of what the location actually looks like. These views are essentially a series of virtual reality (VR) photographic documents stitched together to make a seamless view of the street which can be seen and "walked" through virtually.  
Newer systems based on this older technology have now been developed that allow designers to create that same kind of digital walk-through – only now, they can "walk through" the more complex interiors (and surrounding exteriors) of existing buildings.  
For new construction site visits, Matterport allows us to record conditions of infrastructure prior to closing walls and installing ceilings.  It also allows us to capture finished projects whether just one or two rooms on up to a full three-story building. 
Complex Spaces More Easily and Efficiently Shown to Clients, Users, and Teams 
EYP recently completed renovation of an interventional radiology procedure room at UNC Rex Healthcare. These spaces are highly complex to meet the function needs of the users but also very challenging to photograph. Matterport technology allowed us to capture all aspects of the space.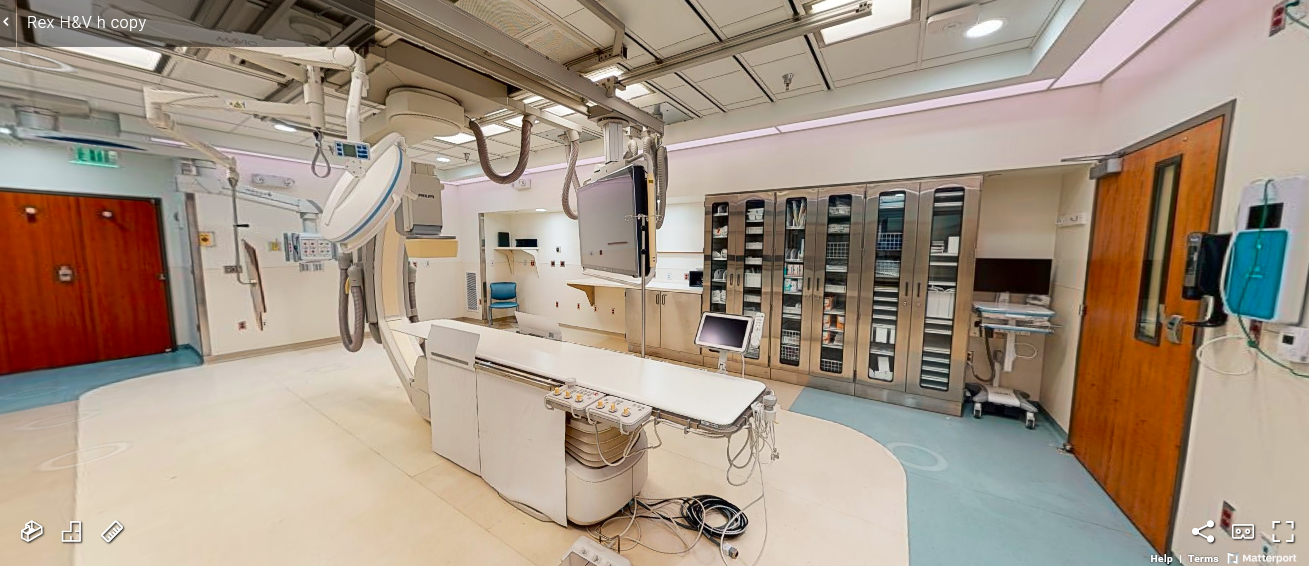 Virtually walking through a complex space has several advantages: 
It allows our clients to show completed work to internal coworkers without them having to gain access to a semi-restricted or restricted area;  
 
The technology provides an excellent form of communication for prototyping, best practice, and benchmarking.  Imagine the benefits of walking clients through highly complex procedure, operating rooms, or hybrid operating rooms – all from their own desk;  
 
Internal and external education: one the major challenges in completing construction documents on these complex spaces is helping people working on the projects to understand how the space functions and what it looks like. With Matterport, we can easily show spaces and equipment.   
Safety, Cost Savings, Time Efficiencies 
As AE practice becomes less local and more global, the costs associated with multiple site surveys emerge as a new challenge. This challenge has particularly affected historic preservation and modernization projects more than new building projects.  
A key advantage in both existing and new construction projects is the ability to record the infrastructure in-wall and above-ceiling before it is covered up. When clients and designers go back into to further renovate or modernize these areas, they will have very reliable 3D information available to them.   
"For our healthcare projects, this is extremely helpful for having accurate existing conditions information," said Michelle. "Above-ceiling conditions are very dense and we have limited time in which to document the existing conditions because most locations in a hospital are utilized 24-7."   
"Another advantage of Matterport is that it eliminates the need to wait until an ICU or Operating Room (OR) is free, or waiting for the space to be terminally cleaned after we open up ceilings," Michelle added. "For example, in locations where we cannot close a room, such as an active corridor, without Matterport, we would need to utilize a clean booth to access a space ceiling area and even then we would have limited distance visibility above the ceiling. It takes a great deal of time to survey small areas; Matterport can help teams and staff save time, resources, and budget."  
Government agencies are also working to make the best use of the space they have and increasingly rely on repair, renovation, and full modernization projects being planned in occupied buildings. How we plan these projects, while maintaining a high level of sensitivity to the existing occupants, and without the support of multiple on-site surveys, becomes an extremely important part of how we work; one that demands new technological solutions. 
More Productive Survey Trips  
In complex, historic preservation and modernization projects, Matterport is invaluable.  
Often, the final strategy for a project is not clear at the outset of design. Changes to a planned approach can reveal gaps in the information-gathering process. This frequently requires return survey trips to clarify parts of the building that were not originally considered important, but that turned out to be so as the design developed. 
"Over the course of my career, there have been innumerable times I wished I had taken more photographs or better sketched an existing condition during a building walk-through," said Greg. "I would find myself working on the drawings and struggling to recall what material had been utilized in a  particular place, for example. I'd have to return to the building to fill in the blanks that were not 100% captured in the initial survey."  
Matterport scans make such questions and return trips much less likely. The scans have a fairly high resolution that allow users to virtually walk through different areas of the building and see exactly what materials are in place, how transitions occur, and even allow us to read the floor directories to confirm which tenants occupy a floor or a suite. 
"I have found this to be an extremely useful tool for back-checking documents," added Greg. "It allows me to gain a better understanding of existing spaces and identify problems that might not have been noticed if relying solely on spot photographs."  
Another great feature of Matterport is a tool for measuring distances. The tool works in either plan or 3D views, with accuracy to within one inch – which is great for spot-checking existing conditions, ceiling heights, or door locations. 
How Matterport Works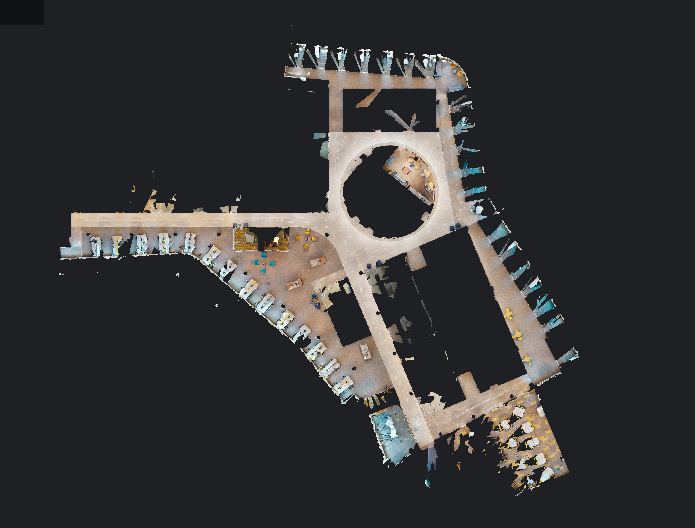 With Matterport, the system consists of a 3D camera that creates 360-degree views from a single point. The files are integrated with software that combines these views into a coherent walk-through. The camera is positioned at intervals within a space to create a series of points of view to and within that space.  
Similarly to Google Street Views, Matterport combines these views into a consolidated and connected package which ultimately creates a floor plan of the entire building scanned. The 3D walkthroughs live on a cloud server and are accessible in a few clicks with any time a team member needs to look up a particular condition in the building. Matterport organizes its detailed building information several ways including plan views, and a 3D birds-eye view called the "dollhouse" view. Designers have flexibility to organize views by floor or region, as well. 
Global Climate Implications 
As more of our clients are looking less frequently at the construction of new space and more at the modernization of existing spaces, tools like Matterport are increasingly important. The ability to review existing conditions without having to send a team out multiple times to view a site  especially during a pandemic, extreme weather event, or even to simply control costs and impact on the planet due to travel – continue to provide value to designers and their clients.