When designing a new laboratory, how do you accommodate current needs while planning for rapidly evolving technology and scientific innovations? Design and construction teams often look to Disciplined Flexibility and speed-to-market strategies that maximize laboratory adaptability and accommodate change.
Disciplined Flexibility
You can think of Disciplined Flexibility as creating a battleship-like laboratory, constructing a facility that can host any type of research while maintaining functionality and durability. This approach may include designing a high-energy chassis – or high-functioning foundation – with adaptable features that enable the lab's operation to change over time. Teams also use lab planning modules to optimize space orientation and coordinate architectural and engineering systems. For example, a modular cart-based system, which includes movable storage and furniture space, enables users to change their lab's layout effortlessly. These design techniques create a dynamic, multi-functional lab and accommodate constantly evolving needs.
Speed to Market Strategies
Speed to market is also essential in the success of building these flexible laboratories, as the pace of laboratory innovations far exceeds traditional building processes. Design-Build or Integrative Product Delivery (IPD) combined with Design Assist are strategies that help facilitate a flexible design approach.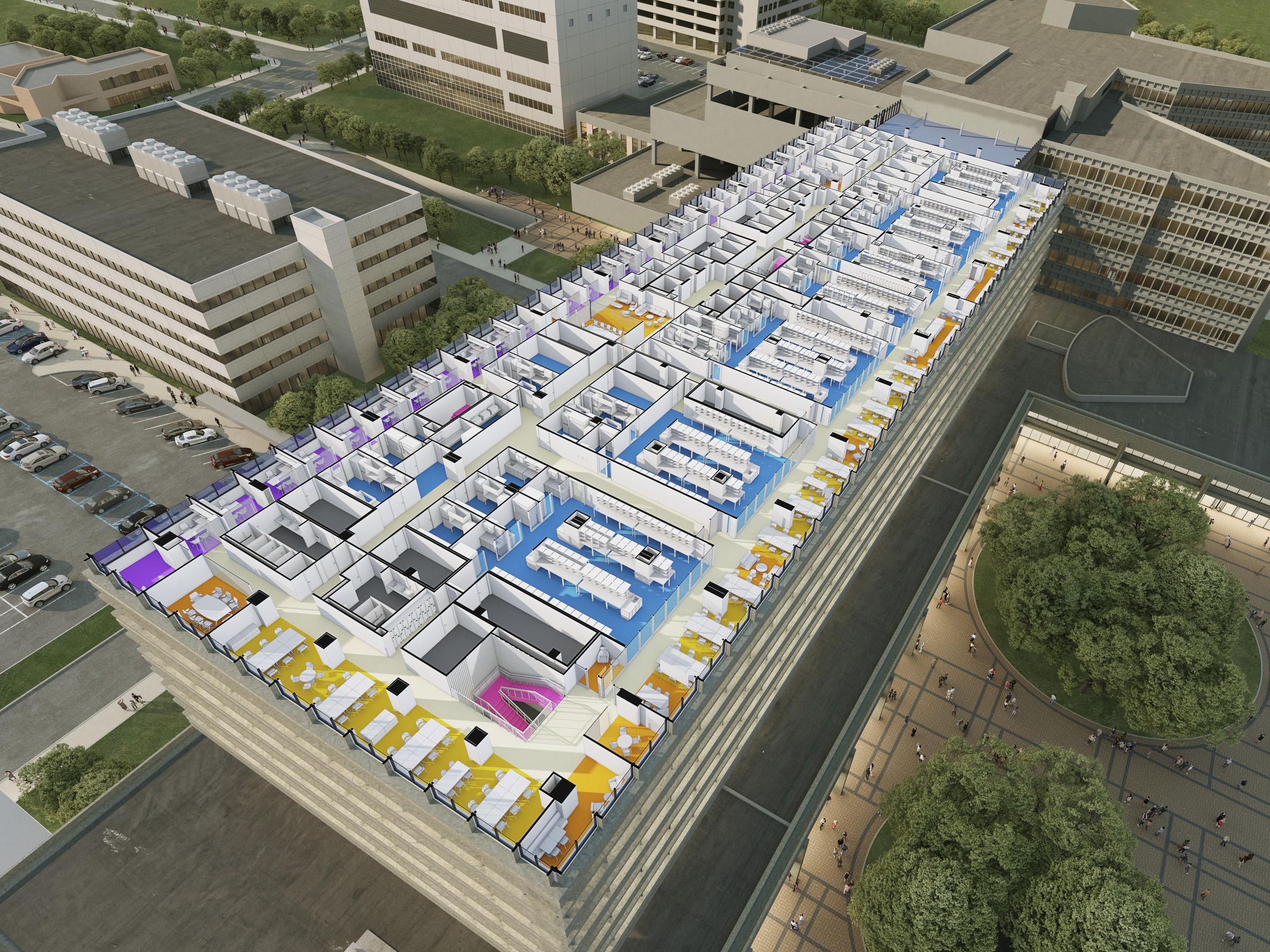 The most significant difference between Design-Build and IPD is where the risk lies within the contractual relationship. Design-Build is when there is one contract, meaning the contractor is in an agreement with the building's owner. The contractor takes full responsibility – assuming all the risk – to contract the necessary design players, creating one entity.
In contrast, IPD is when the stakeholders— owner, construction manager, architects, engineers, and designers — all come into one agreement – they are all in one contract, but not necessarily as one entity. This contract creates a shared risk and reward structure. Both Design-Build and IPD are effective approaches as up-front collaboration results in greater innovations, leading to these adaptive laboratories.
Design Assist improves coordination and integration by introducing engineering and detailing into the design phase early on to reduce the cost and time for construction, improve constructability, and add value. This approach increases the speed of delivery, as it allows teams to prepare early and avoid any unexpected problems through co-location. You can think of co-location as "the big room."  All the necessary players meet in this room to make significant design decisions, bringing together everyone's unique trade knowledge and eliminating oversights. Design Assist creates an agile team where each trade has a voice in the initial design and can quickly react to changes in program requirements.
Better Budgets
Design Assist also has positive impacts on cost and budgets. When all subcontractors participate in the initial design process, the team can create a control estimate and then utilize Target Value Design (TVD) to track cost projections. TVD is a way to break a total project budget into smaller buckets – which may include a budget for the exterior, site, structure, mechanical, electrical, low voltage, interiors, etc. The team then designs to meet these small bucket budgets.
Overall, Design-Build and IPD positively affect budget costs, allowing design, innovation, and speed to be top priorities in your laboratory project. When these advanced project delivery techniques are coupled with Disciplined Flexibility, teams can help clients meet current laboratory needs while planning for future possibilities.