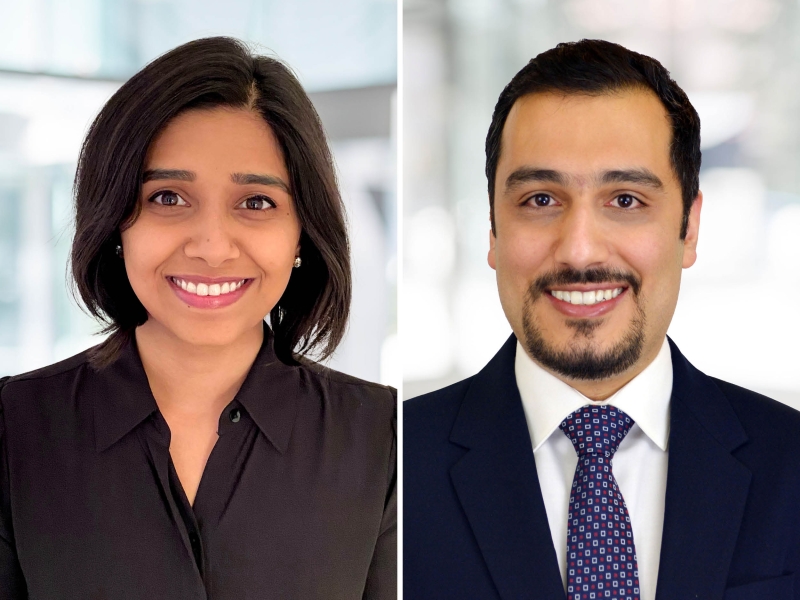 EYP, a Page company, started its Tradewell Fellowship with a vision: to train and inform the next generation of healthcare architects, medical planners, and designers. The Tradewell Fellowship, which runs from June to June, immerses fellows in real-world medical planning and research projects.
In addition to being mentored by firm leaders — including Page/EYP architects, senior medical planners, and designers — Tradewell Fellows are included in healthcare projects from the initial planning stages, have direct contact with healthcare clients, and attend a national conference of their choice.
"We are ecstatic to enter our 25th year of the Tradewell Fellowship," says Tradewell Fellowship lead curator Renee Fiala, a former Tradewell Fellow herself who is now a senior medical planner for Page/EYP. "Adapting over time, the program now offers up to two Tradewell Fellowships per year across our healthcare office locations. Fellows select a research topic and are supported through the development of their own Tradewell project during their fellowship year. Every fellowship is unique and is designed to amplify the fellows' exposure and opportunities, developing our future leaders in healthcare design."
Fellows are selected by a group of past Tradewell Fellows based on the strength of their design portfolios, letters of recommendation, and essays describing their accomplishments and career goals. The Tradewell Fellowship began in 1997 and has 27 alumni and four retroactive fellows.
We welcome our Tradewell Fellows for 2022-2023, Sharanya Reddy (Page/EYP DC) and Ali Momen-Heravi (Page/EYP Denver).
SHARANYA REDDY, EDAC, WELL AP
With a bachelor's degree from the BMS School of Architecture in India, Sharanya Reddy's first project was to work on a physician eye clinic. Although the experience was, she says, "holistic and intriguing," her curiosity led her to pursue a master's degree in architecture from The University of Illinois at Urbana Champaign. During several internships, she worked on residential and educational projects, and found herself gravitating toward health and wellness-based projects. This inspired her to take a healthcare-centric studio during her last semester, which introduced her to the world of healthcare design.
"Each healthcare project is like a complicated puzzle, all the pieces must fit perfectly together for it to function," she says.
Sharanya went to work for an architectural firm as part of its healthcare team. "Life had come full circle," she says. "I started my architectural journey in health care, then explored other market sectors, only to realize healthcare design was where my passion truly lay."
"The Tradewell fellowship is a unique opportunity, it allows me to deep dive into designing for an aging population and equips me with all the resources I need to contribute to the healthcare industry in a meaningful manner." – Sharanya Reddy, Tradewell Fellow in Page/EYP DC office.
She gained experience in the design of inpatient departments, emergency departments, and medical office buildings, while immersing herself in medical planning and design. Her increasing interest in health care prompted her to participate in a think tank to strategize ways to improve cognitive health. This brief stint allowed her to understand the need for designing for an aging population.
"When I came across the Tradewell Fellowship, I knew it was the perfect opportunity to build on my previous experience and work on meaningful research," Sharanya says. "I see the fellowship as a catalyst that will help me accelerate my learnings and advance my career. I am eager to apply an evidence-based approach to both my projects and research."
ALI MOMEN-HERAVI , Associate AIA, EDAC
Ali Momen-Heravi completed his Ph.D. research at the University of Illinois at Urbana-Champaign, where he studied innovations in environmental design policy and practice that support the health and well-being of occupants in the context of the nation's largest affordable housing program. Ali holds an MS in architectural studies and a professional master of architecture with a concentration in design and planning of high-performance healthcare environments, also from the University of Illinois at Urbana-Champaign.
Ali has two years of professional experience in the design and development of luxury, custom-built vacation homes. He developed a strong passion for healthcare design during the early stages of his graduate studies when he realized the field's opportunities to "directly influence and improve human lives."
Through completing several graduate courses relevant to healthcare architecture, teaching experience, and research assistantships at the Illinois School of Architecture, he has developed and honed skills in evidence-based design, varied representation techniques, and interdisciplinary research. Ali has authored health-focused architectural design papers and posters and has presented his work at Environmental Design Research Association (EDRA) conferences.
"The Tradewell fellowship enables me to meaningfully contribute to the creation of healing environments through which patients, caretakers, and communities can live up to their full potential and flourish. And personally, I will gain valuable experience collaborating with top healthcare professionals." –Ali Momen-Heravi, Tradewell Fellow in Page/EYP Denver office.
"Although my work during these experiences has spanned a variety of design challenges and research questions, a central theme of my effort has always been a continued pursuit of excellence in architecture that enhances human experience and health outcomes," he says.
Ali is interested in identifying design strategies that enable healthcare environments to continue providing the highest level of care during crises. His Tradewell project focuses on environmental design strategies that enhance the functional and operational resiliency of the Emergency Department during surge events, often caused by mass casualty incidents. "Optimizing the built environment of the emergency department to better respond to crises can directly improve the nation's healthcare outcome indices," he says, "especially when we are witnessing more frequent mass influx of casualties caused by increasingly recurrent weather-related calamities and widespread infectious disease outbreaks in recent years."