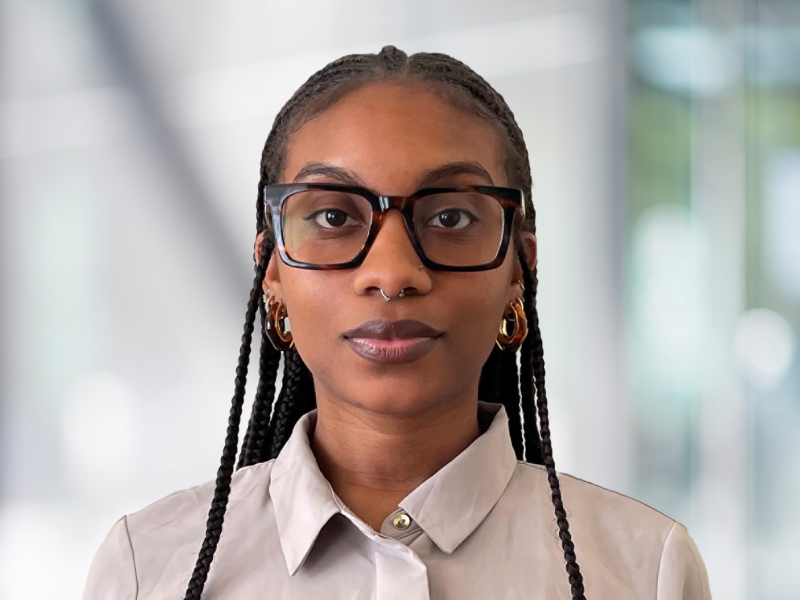 For the third consecutive year, as a member of the AIA Large Firm Roundtable, EYP collaborated with the National Organization of Minority Architects (NOMA) Foundation to host our firm's third NOMA fellow. This summer we've been fortunate to host Research Fellow Sidney King, who has been working in our Washington, DC office.
"It's been a pleasure hosting Sydney as our third NOMA fellow", said Moira Fitzgerald Ryan, senior HR manager and co-chair of EYP's Equity, Diversity & Inclusion (EDI) Committee. "Partnering with NOMA in support of their mission to foster justice and equity in communities of color through outreach, community advocacy, professional development, and design excellence is a perfect match for EYP's commitment to helping minority architectural students have a meaningful professional experience early on their careers and ensuring our talent pipeline reflects diversity consistent with demographics of the regions in which we operate."
Sydney graduated in May 2022 from Pratt Institute in Brooklyn, New York. At Pratt, she earned her Bachelor's of Architecture with minors in both Sustainability and Social Justice Praxis. Joining EYP shortly after graduation, Sydney is wrapping up her fellowship at the end of July. Below, she shares highlights from her experience with our firm.
EYP + NOMA: Why the fellowship matters
EYP's relationship with NOMA is important because it allows for students and mentees to have the chance to experience the work force and make connections. This is my first internship ever and it has helped me tremendously in the short time I have been here.
The people, the collaboration, the events, the summer intern check-ins, and especially the ERGs (Employee Resource Groups) that are available to us as interns has been empowering. I really enjoyed the willingness of others to share resources and knowledge within EYP and connections with others across firms.
Opportunities and learning
Over the summer, I've been able to work on a Historic Preservation project for one of the firm's Smithsonian projects. I also helped on a Higher Education project focused on renovating and modernizing an academic building at the University of Maryland, Baltimore County (UMBC).
The weeks with EYP have helped me understand the characteristics of studio culture in bigger firms that I should look for and expect, especially an environment that is centered on the health of users and employees. I've also become more efficient in a program I happened to lack expertise in — thanks to so many skilled individuals who were willing to help me learn.
Another plus was that I had the option of working both remotely and in-person at the DC office. I am grateful for the flexibility as I am located about an hour outside of the city, but it was also great to be able to go into the office and experience the beauty the office is surrounded by —especially during the summer.
How has your NOMA Fellowship helped you prepare for what's next?
This fellowship has given me the opportunity to step forward into a new firm with confidence in my work and connections with other well-established professionals who have an abundance of experience. This confidence and the relationships I've formed, make me feel excited for what's next to come in discovering things I love in this field.
The experience has provided me with excellent mentors that I can continuously go to for advice. And then one day, it will be me doing that for others. I can do the same for other upcoming black and brown designers.
What is next for you?
Hopefully, what's next is that I will continue to make connections across different disciplines that I would love to try to work in, and really become a well-rounded designer. I am quite open to learning various aspects of design that do not stop at traditional architecture, because that's what builds skill and exposes designers to other ways of thinking and perspectives.
My biggest goal is to love and have fun at what I do. To help others achieve positions and knowledge and understanding that they may not have ready access to. My goal is accessibility on all levels for everyone.