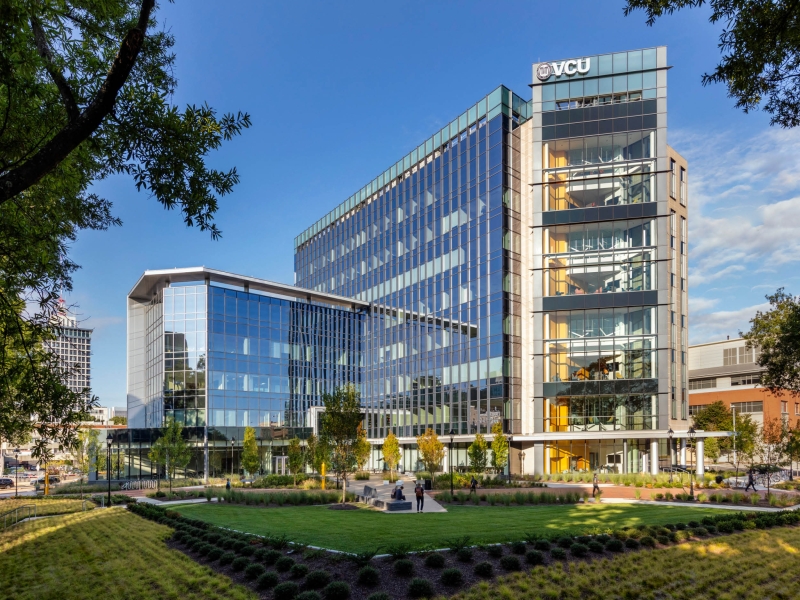 When the Health Professions Tower at Virginia Commonwealth University opened in 2019, the spacious new building co-located all 11 academic health programs under one roof for the first time.
"This will allow us to train our students to work together and to collaborate so that they don't just live in the silos of their discipline," says Susan Parish, dean of the VCU College of Health Professions. "Our graduates work that way every day, and now our students will too."
The 154,000-square-foot, building, designed by EYP, a Page company, is visually compelling, with a reflective glass exterior and two intersecting levels—one eight stories and one four stories—symbolic of the interdisciplinary nature of the space.
"Previously, the health programs had been spread all over campus," says Brent Castro, Page/EYP senior designer. "The university has one of the best programs in the country, and students were coming for the academics, faculty, and research opportunities. We were able to get them into a building that highlighted what they did well and allowed for creative collisions among the departments."
Castro, Jennifer Amster, Page/EYP lead planner for higher education, and Lauren Bailey, facilities management, planning and design project manager, VCU, presented the Health Professions Tower project at the 2022 Society for College and University Planning (SCUP) Mid-Atlantic conference in March. Their presentation, "Discovering what Works: From Design Goals to Post-Occupancy Evaluation," was well received, with standing room only.
The team shared how evidence-based practices could be applied in academic planning:
User perceptions and preferences
Benchmarks for space metrics
Best practices for building organization
Best practices for building design
Energy efficiency and sustainability
Using an evidence-based design process involved evaluating the building's performance by users, which allows structured feedback on how the intended goals and objectives are being met, and whether the design has fulfilled its purpose. The post-occupancy evaluation used a combination of interviews, observation, and data collection.
Key Takeaways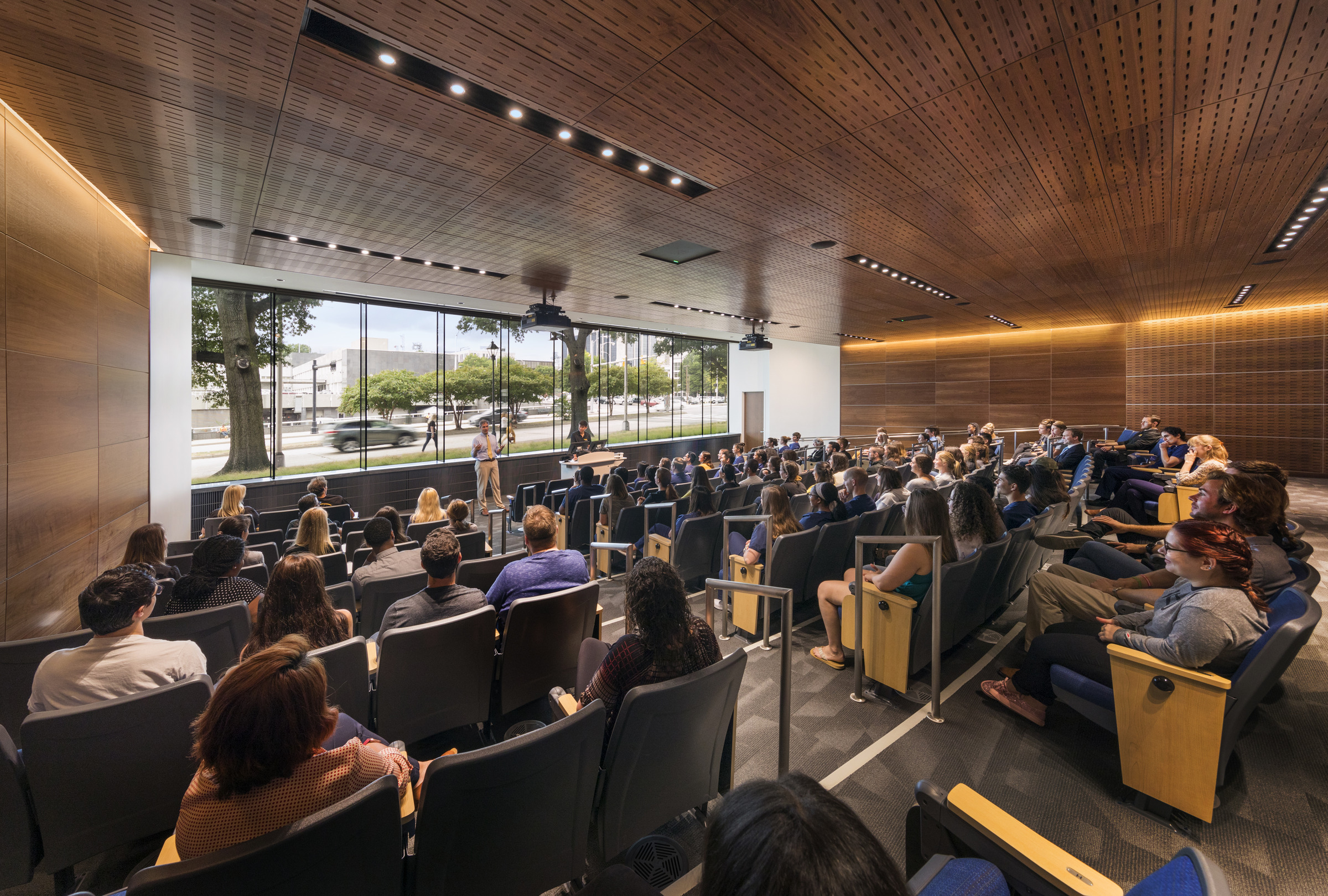 Amster says key takeaways from the post-occupancy survey of VCU's Health Professions Tower include:
Natural light was a key driver for satisfaction
Food (and where you can eat) was an important program element for informal spaces
Faculty and students want a lot of flexibility in their classroom furniture
For study space, students preferred a large area to come together over individual smaller spaces. "Although our research showed that both types are important," Amster says.
"The building opened right around COVID, so some elements were tough to evaluate," said Castro. "But one of the things we found out was that behavior has to change, the culture itself has to change, to attain the goals. Space can't do it all."
Faculty and students must show up and engage with each other, for example, using the public and learning spaces in collaborative, creative ways.
Collaborative, Hands-On Learning Spaces
The building's lobby served as a living room, with modern, comfortable seating and informal gathering spots, and a 160-seat auditorium can accommodate students from all the health disciplines. Learning laboratories are designed for hands-on training with patient simulation and diagnostic technology. A 'smart apartment' allows students to support the needs of elderly patients and people with limited mobility with daily activities.
Virtual reality (VR) tools allow health profession students to learn at a rapid pace. The acute care simulation suite replicates hospital patient rooms and operating rooms, and instructors observe students via video feeds from adjacent rooms. The Clinical Laboratory Sciences program has a research area with 48 wet-bench spots, from which each student can easily view the instructors' demonstrations.
Students use the building's plentiful makerspace to create personalized, precise objects that can support the health and wellbeing of patients. Flexible classrooms have been designed for student engagement and distance-learning opportunities. A rooftop patio and garden is open year-round for students and is available for meetings and special events.
The complexity of the building might lead one to believe it took years to plan and complete, but to qualify for state funding, the team had to take the project from concept to design development in four months. "We had a room where we met once a week and talked with faculty and staff around the table," Castro says. "Then we would draw for a few hours, they would tell us what they liked, and we would move with it."
The main goals for the project – to build community for the health professions, create a state-of-the-art environment, accommodate growth and development, and model the values of the school – appear to have been met if not exceeded.
"It was an incredible experience to see the Health Professions building come to fruition," Castro says. "The glass tower truly became a beacon for the entire community."