Resembling a gleaming MedBay of the future, a hybrid operating room is designed to allow the patient to stay in place during surgery, with all necessary equipment and technologies surrounding them—from medical gases to surgical booms to advanced imaging devices.
Hybrid ORs streamline the surgical process and improve patient outcomes. Real-time imaging is used to provide immediate guidance to the surgeon. "I enjoy seeing how excited the surgeons get about these ORs," says Senior Medical Planner Haeoak Park, EYP Houston.
These advanced surgical spaces allow a reduced number of separate procedures and a shorter recovery time."What makes them so popular is the introduction of permanent imaging equipment into an OR," says Michelle McNutt, technical director, EYP Raleigh. "Traditionally, the patient would be wheeled out of the OR in the middle of surgery, down the hall to the imaging suite, then taken back to the OR to close them up. That was a huge safety issue. With hybrid ORs there is less risk of hospital-acquired infection."
Haeoak and Michelle have designed several types of hybrid ORs for hospital clients around the country. Houston Methodist Walter Tower in Texas Medical Center provided a bi-plane Hybrid OR for its cardiovascular team and an intra-operative MRI suite for its neuro team.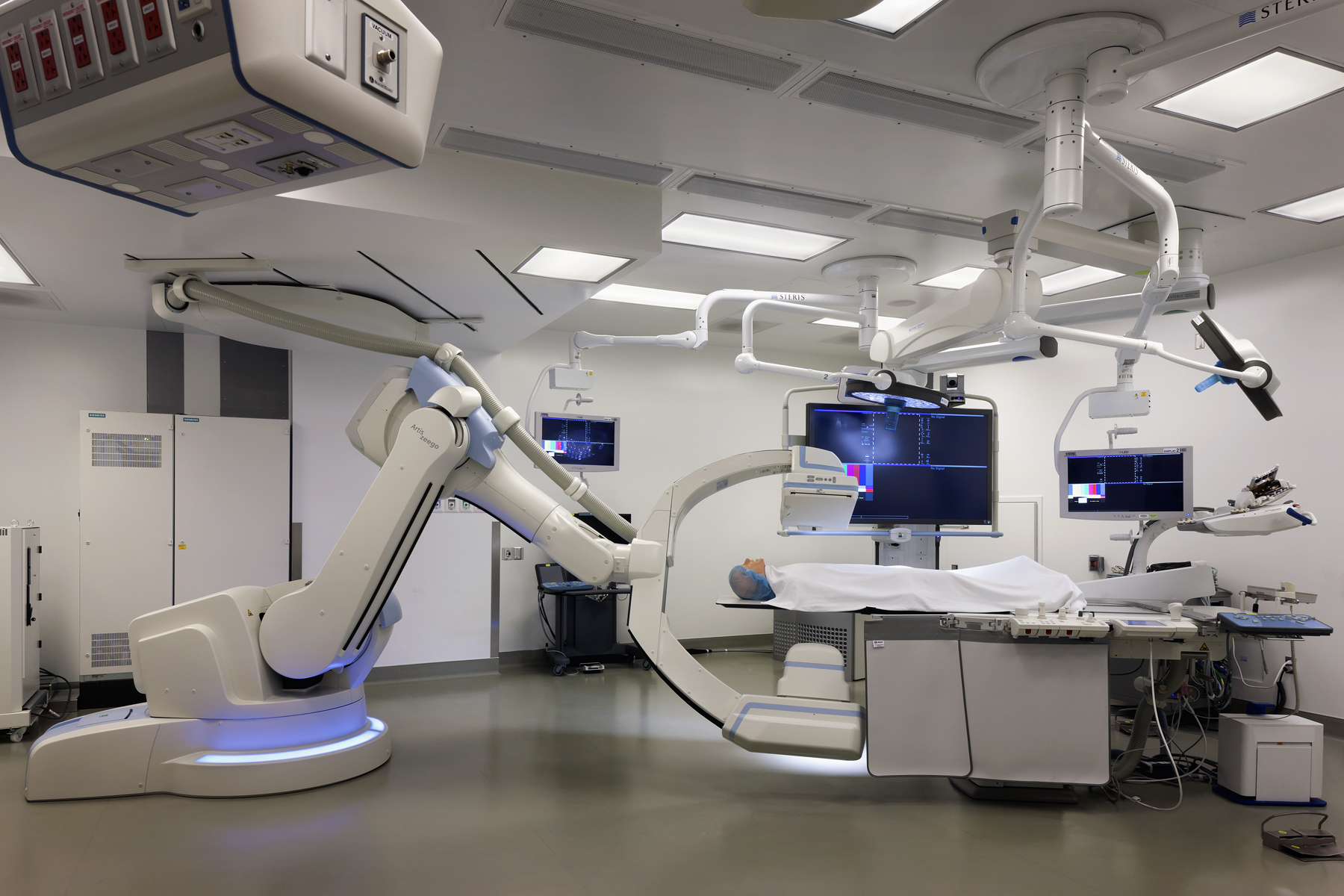 Hybrid ORs are expanding from being used mostly for heart and vascular surgeries to neuro and spine, orthopedic, and trauma surgeries as well. "A hospital has to have enough patient volume in these service lines to be able to support this type of OR," Haeoak says.
The medical team's intricate choreography is important for the designers to understand. "We shadowed a doctor as they used the new hybrid room to watch where everyone stood," Michelle says. "We would ask them: What are you doing? Where do you have to reach? What's going on? Even then, doctors have their own preferences, and everyone is different."
Bigger and Better
Hybrids need to be much larger than a traditional OR—800 to 1,000 square feet or more to accommodate the equipment required, as well as the expanded medical team of surgeon, interventional radiologist, anesthesiologist, nurse, perfusionist, and technician.
The need is obvious from the clinical side: surgeons are asking for "more and more modalities" to be included in surgical suites, says Haeoak. "The hybrid OR I'm designing right now has direct access to two C-arms, CT, and MRI. It's complex because the room needs to be flexible enough to accommodate multiple service lines and multiple case scenarios per service line, with various team positioning. This flexibility enables the high investment for top-of-the-line technologies."
Traditionally, large MRI machines have had to be placed in specially shielded rooms, to protect delicate equipment. But this is going to change as MRIs become smaller and more portable and shielding technologies evolve, says Michelle. "The future is smaller, portable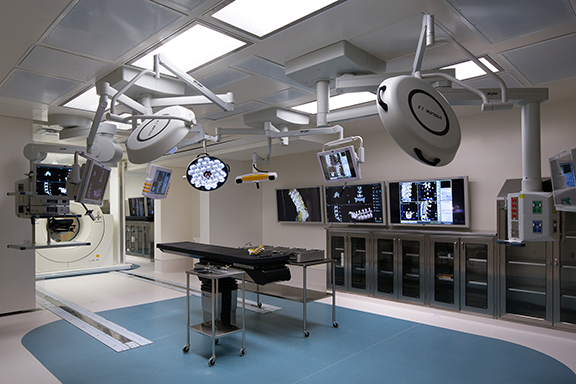 MRIs that come to the patient, rather than the patient being wheeled over to the MRI."
Also, newer CT imaging systems are being designed to emit less radiation, and portable shields and suits can be used to block radiation.
Biplane imaging is becoming more common in hybrid ORs, an advanced imaging device with two cameras that rotate around a patient and provide simultaneous front and side views. "In fact, many hybrid ORs are choosing to have biplane C-arms over MRIs, as there is a higher case volume for biplanes right now," Michelle says.
Ultimate Pay Off
Hybrid ORs advance a hospital's ability to do minimally invasive surgeries. These surgeries benefit patients through quicker recovery times and hospitals by increasing surgeon satisfaction and innovation.
But when facilities "run the numbers" to look at the volumes that would support the addition of hybrid ORs from an ROI perspective, they often don't pencil out, says Kimberly Stanley, EYP's healthcare sector leader.
"Hybrid ORs are magnificent advancements in technology and patient care – and are certainly sought-after modalities – but they come at a cost," says Kimberly. "Strategizing and configuring the rooms to get maximum utilization is key, so the client can anticipate a reasonable payback. This is particularly true in pediatrics, for instance, or at facilities that simply don't have the volume of some of the big academic medical centers."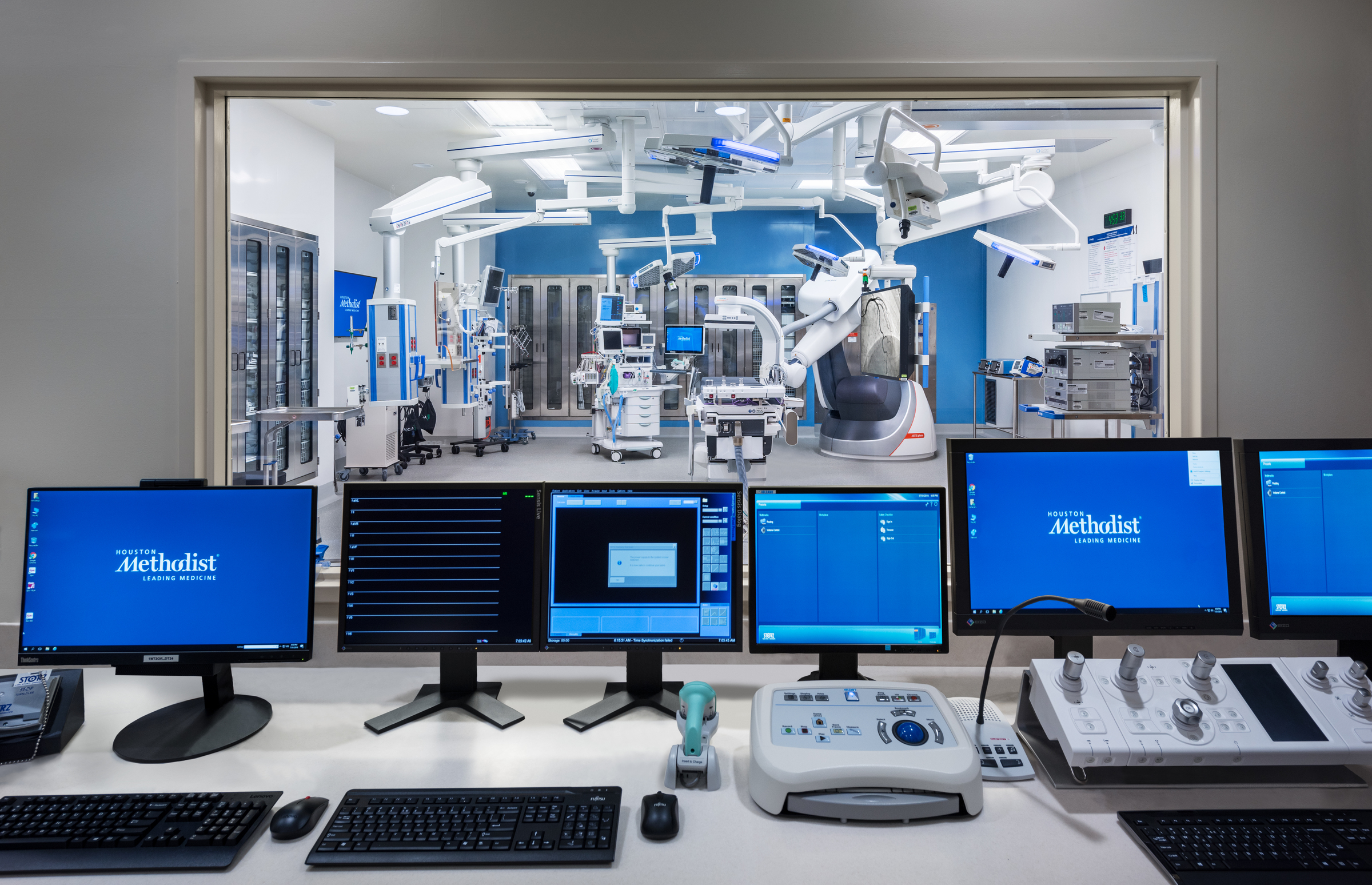 One example is Transcatheter Aortic Valve Replacement (TAVR), which replaces a diseased aortic valve by inserting a healthy value through a small incision; it is best done in a hybrid OR so surgeons can track their progress with real-time imaging. About 600 hospitals in the US have TAVR programs, most developed in the past few years. As the demand for TAVRs increase, hospitals are able to justify funds for a hybrid OR.
"The initial cost of hybrid ORs can be high," Haeoak says, "but they ultimately co-locate important services and attract more patients."
This very consolidation makes it challenging to design hybrid ORs, which must provide utmost flexibility and a seamless interplay between technology and staff. Often the design is driven by the technologies needed—and if the tech changes, the design must change around it.
"When designing one heart and vascular OR, we designed with a specific C-arm, then the type of C-arm changed, and we redesigned the room," Michelle says. "Now there are robotic C-arms that can drive around the room, tethered with an umbilical cord to the ceiling, with lasers that help the robot site itself and know where its boundaries are. It's not on a fixed base or a large overhead ceiling structure."
Another benefit is that fully outfitted hybrids allow healthcare facilities to attract and retain more highly skilled surgeons. "It's a recruiting point," says Haeoak.
In turn, these surgeons are pushing the envelope by developing new, minimally invasive procedures they can more readily do in these fully equipped ORs, says Michelle: "Ideally we are headed toward almost all surgeries being minimally invasive. And hybrid ORs are helping us get there."
Takeaway Tips for Hybrid ORs
Because hybrid ORs are a large up-front investment, hospitals should have a plan for their most effective use, including gathering input from vascular, neuro, cardiothoracic, radiology, nursing, and other specialists.
In addition to the usual surgical equipment, more modalities are being included such as C-arms (mono or biplane), integrated ultrasounds, mobile MRIs, and electromagnetic navigation systems. A cost-benefit analysis with projected patient volumes helps determine what devices to include.
Careful equipment positioning is required to allow a fast conversion from minimally invasive to conventional surgery if needed.
Patient tables are also getting more complex, with all-around rotation and tilting capacity to enhance positioning during surgery and imaging.
Ceiling-mounted monitors are positioned to allow all team members to see the images simultaneously.
Medical device companies that produce hybrid OR equipment are helpful partners in room design and may even have 3-D fly-around visualizations of optimal device positioning.
Newer technology will continue to be developed after activation of the room, such as OR integration systems and robotic assistance, so hybrid ORs should be designed for flexibility. (For example, add an extra conduit or countertop in the control room.)