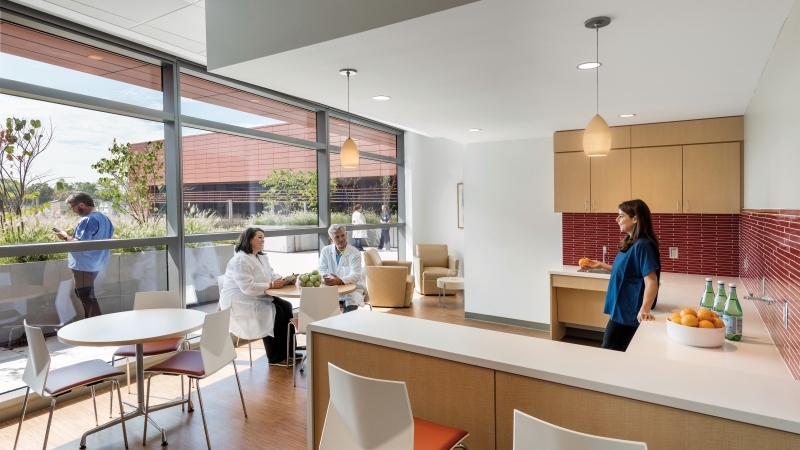 Beginning in 1978, an organization called Planetree challenged those in the healthcare field to reconsider the way we treat patients and those who care for them. The founder of Planetree, Angelica Thieriot, was ahead of her time in pushing us all to nurture and treat one another with empathy and respect, especially during hospitalization, no matter one's age, culture, or education. The mind, body, and spirit were all one when working in a Planetree-designated hospital. 
The Planetree philosophy inspired healthcare architects to redefine hospital design. For hospital administrators and planners, this was a pivotal moment and resulted in a new emphasis on building and renovating hospitals with empathy, supported by evidence-based design and follow-up assessments. 
Planetree maintains that person-centered care is "defined, attainable, and measurable."  This empathic approach has been at the center of the core values in EYP healthcare design studios.  
Fast forward to today: EYP has partnered on several Planetree hospitals, such as the new Stamford Hospital in Connecticut. Our teams will tell you that these projects can be the most rewarding to work on.  
Pre / Post-occupancy assessment 
EYP, Planetree, and healthcare clients wanted to determine if hospitals are meeting the goal of patient-centered care for patients and staff, as intended. Stamford Hospital was a good fit for a post-occupancy survey. 
Laurie Waggener, research director of healthcare EYP Houston, partnered with Stamford Health to assess the health system's new Planetree hospital. The ultimate vision for the hospital, says Waggener, was to strike a unique balance between the level of quality care and service for patients while offering an equally uncompromised commitment to staff's wellbeing. 
The resulting study, "Post-occupancy Evaluation of a Neighborhood Concept Redesign of an Acute Care Nursing Unit in a Planetree Hospital" was published recently in the Health Environments Research & Design Journal (HERD). The research team and authors include Waggener; Suzanne Rose PhD, director of the Office of Research for Stamford Hospital; Dr. Sharon Kiely, senior VP of medical affairs and CMO of Stamford Hospital; and Alan Hedge PhD, professor emeritus, Department of Design and Environmental Analysis at Cornell University. 
EYP was the Architect of Record for the new Stamford Hospital. A team made up of clinicians, administrators, and EYP architects, designers, and medical planners, was charged to "reimagine healing." EYP's team included: medical planner, Charles Cadenhead, FAIA, FACHA, FCCM (retired), design principal Tushar Gupta, FAIA, and lead interior designer, Roseann Pisklak, IIDA, AAHID, EDAC. 
"The philosophy of person-centered care empowers patients to take responsibility for their own health, since recovery continues well beyond leaving hospital," says Pisklak. "It's about treating the person, not the diagnosis alone. Planetree also encourages a multidisciplinary approach to care, shared decision-making, and removal of barriers, which strengthens lines of communication and builds trust and confidence towards positive health outcomes." 
Built-in compassion 
Delivering this compassionate message across the hospital, we believed, would decrease risk of errors, create open lines of communication, and result in a more efficient and effective care environment. But did post-occupancy surveys support these changes? 
"This was a great opportunity to study a project using two prominent frameworks for healthcare architecture and interior design: the Planetree criteria and Evidence-Based Design," says Waggener. "Thus far, publications on Planetree facilities have reported predominately through the eyes of the patient and family. This paper captures the assessment of patients, families, and the RNs." 
To investigate the impact of a nursing unit designed using Planetree build criteria, a comparative study was undertaken to survey nurses working in an acute care nursing unit before and after moving to the new hospital. Pre-move and post-move, practitioner-focused surveys were conducted to obtain performance information, which was analyzed by study author Dr. Alan Hedge.  
"Focusing on the Acute Care Med-Surg nursing units, we have learned greatly from this data as well as the data from the other departments in this project," Waggener says.   
The post-occupancy survey showed statistically significant improvements in most of the concerns highlighted in the pre-move survey, such as access to supply rooms, handwashing sinks, and having ample space for team collaboration and private, quiet documentation, as well as significant improvements in the workflow and overall satisfaction of nurses.  
Patient experience survey results were gathered from Press Ganey healthcare analytics company and the Hospital Consumer Assessment of Healthcare Providers and Systems (HCAHPS) over a five-year period. All but five domains out of 59 improved significantly in Press Ganey and six domains out of 25 improved significantly within the HCAHPS scores with an additional six domains showing improvement but not significantly.   
Significant improvement post-move was especially apparent in survey categories regarding work efficiency and productivity, the design of the patient room and of support spaces, the information systems, and the ambient environmental conditions.   
While survey results were predominately favorable, they also reflected the continued need for improvement and the sustained challenges frontline practitioners face. For instance, even before the pandemic, the survey open comments revealed the importance of revised operations, such as maintaining stock levels of supplies and the need for enhanced nurse call technology.   
"Some poignant moments arose in the reporting of the research," says Waggener. "When we compared the survey responses to 'response time,' 'addressed emotional needs,' or 'regular visitation,' patients rated the nurses higher than nurses rated themselves." 
This disparity might be attributed to nurses' desire to spend more time on direct patient care, while factors that interfere with time at the bedside, such as searching for equipment and supplies, contribute to job dissatisfaction. Enabling nurses to participate in policies, procedures, and methods relative to the stocking of critical equipment and supplies, then, is imperative to increase job satisfaction and decrease turnover. 
"At Stamford Hospital, we leaned into all 10 Planetree principles. You can find homelike, comfortable surroundings, spaces that promote human interaction and social support, easy access to information and education, and an abundant amount of natural light," says EYP's design principal Tushar Gupta. "For the patient, rooms offer uplifting views and plenty of space for visitors, and amenities support spirituality, diversity, and compassion. But you can't take care of the patient without taking care of the caregiver, with features that provide for staff relaxation and stress relief and reduce clinical workspace challenges. Planetree truly takes a holistic approach based on empathy for patients, families, caregivers, and community."