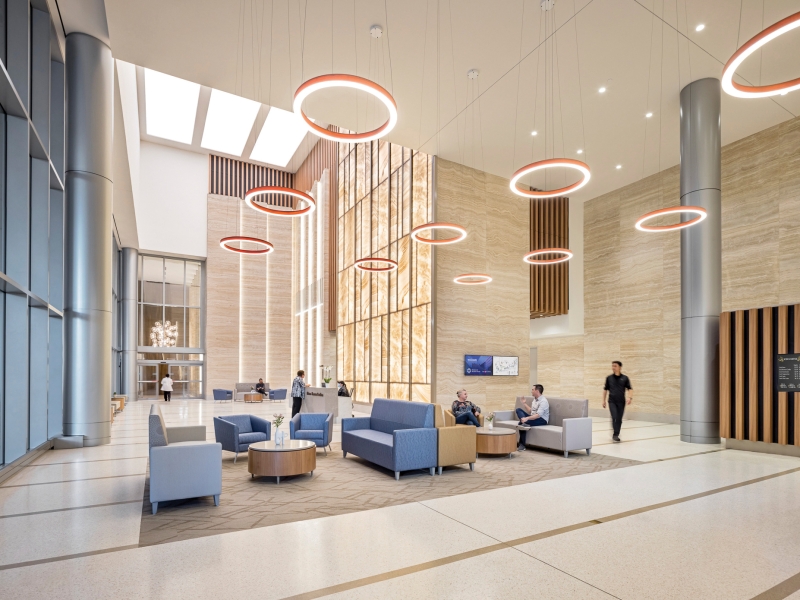 HACKENSACK, NJ – Hackensack University Medical Center recently celebrated the grand opening of its 530,000-square-foot Helena Theurer Pavilion. Designed collaboratively by RSC Architects (overall project Architect of Record and Core and Shell Architect) and Page (Design and Medical Planning Architect and Architect of Record for the interior build-out), this nine-story surgical and intensive care tower is raising the bar on patient care excellence, with every detail optimized to deliver an outstanding patient experience and promote team member safety and efficiency.
The Pavilion includes:
New Jersey's first intraoperative MRI system, used during neurosurgical and neuro-interventional procedures to help neurosurgeons accurately remove tumors and treat conditions such as Parkinson's disease, epilepsy, and more
24 operating rooms; six specially designed to accommodate robotic-assisted surgery systems, allowing nationally and internationally recognized surgeons to perform minimally invasive procedures that may reduce recovery time and improve outcomes
72 post-anesthesia care unit beds and 50 Intensive Care Unit (ICU) beds
175 medical/surgical beds, including a Musculoskeletal Institute and intermediate care rooms
12 negative-pressure rooms to reduce the risk of aerosolized disease transmission within the hospital environment. The entire Pavilion can also be converted to a negative-pressure facility in the event of a future pandemic or public health emergency.
Six da Vinci robotic surgical systems, including one single port system and four orthopedic robots for joint replacement procedures
All-private patient rooms
In addition to incorporating features that enhance patient comfort, the facility promotes patient safety and team member efficiency. This includes dedicated CT imaging on the ICU floor, a monitor tablet outside each patient room that provides information for team members, in-room team workstations and patient lift systems. 
Robert C. Garrett, CEO of Hackensack Meridian Health said, "This is one of the largest hospital construction projects in the country and we could not be more proud to advance healthcare for the communities we are privileged to serve. This new smart hospital expansion is a great example of Hackensack Meridian Health building the health system of the future.'' 
"Our community depends on us, and we want members of the communities we serve to know that we have the technology and expertise to provide the most advanced, compassionate care they need in a comfortable environment, when they need it most," said Mark Sparta, FACHE, president, Northern Region, and president and chief hospital executive, Hackensack University Medical Center.
John P. Capazzi, AIA, President of RSC Architects, commented, "The new Helena Theurer Pavilion project is truly a game-changing facility with interior and exterior designs that redefine the landscape for healthcare delivery and patient experience for one of the largest providers of inpatient and outpatient services in New Jersey. Our entire team is beyond proud to have contributed to a design that aligns with our commitment to innovation, and solved such complex design challenges, while providing technology and critical care services that will contribute to the hospital's future flexibility."
Tushar Gupta, FAIA, Healthcare Market Sector Leader, and Design Principal at Page, said, "The Pavilion's architecture presents a new campus image and  gateway to the community. The building design reinforces best-in-class healthcare with a focus on standardization of care, flexibility in design, and enhancement of clinical efficiency. With a commitment to sustainability, the pavilion is on track for LEED Silver certification. We are proud of our team and our partners, in being able to play a part in bettering the lives of patients and the community who will be treated in this spectacular place of healing." 
ABOUT RSC ARCHITECTS
RSC Architects is a full-service architectural firm that provides programming, planning, architectural design, interior design, and construction administration services for the firm's various healthcare, educational, municipal, commercial, retail, and housing projects. In 2021, RSC celebrated fifty years of design excellence and quality service, and was awarded AIA-NJ's 2021 "Firm of the Year" Service Award. RSC was also recently named within the top 25 nationwide healthcare architectural design firms by Modern Healthcare, and as the #1 ranked in New Jersey. Learn more about the firm at www.rscarchitects.com
ABOUT PAGE
With roots extending back to 1898, Page provides architecture, interiors, planning, consulting, and engineering services throughout the United States and around the world. The firm's diverse, international portfolio encompasses academic, aviation, civic and corporate sectors as well as government, healthcare, housing, industrial, mission critical, science and technology projects. Guided by similar values and culture, Page and EYP successfully integrated the two design firms in June of 2022.  The firm will expand their services and geographic reach, working seamlessly across offices and disciplines. Together as one firm they will combine exceptional design rooted in architectural, engineering and consulting capabilities to make lives better. Combined Firm Brings Expanded Capabilities, Exceptional Talent, and Extended Geographical Reach to a National and Global Client Base. Page Southerland Page, Inc. has 1,300 employees across offices in Albany, Albuquerque, Atlanta, Austin, Boston, Dallas, Denver, Dubai, Houston, Los Angeles, Mexico City, Orlando, Phoenix, Raleigh, San Francisco, and Washington, D.C. Learn more about the firm at pagethink.com.
ABOUT HACKENSACK UNIVERSITY MEDICAL CENTER
Hackensack University Medical Center, a 781-bed nonprofit teaching and research hospital, was Bergen County's first hospital founded in 1888. It was also the first hospital in New Jersey and second in the nation to become a Magnet®-recognized hospital for nursing excellence, receiving its sixth consecutive designation from the American Nurses Credentialing Center. The academic flagship of the Hackensack Meridian Health network, Hackensack University Medical Center is Nationally Ranked by U.S. News & World Report 2022-2023 in four specialties, more than any other hospital in New Jersey. The hospital is home to the state's only nationally ranked Urology and Neurology & Neurosurgery programs, as well as the best Cardiology & Heart Surgery program. It also offers patients nationally ranked Orthopedic care and one of the state's premier Cancer Centers (John Theurer Cancer Center at Hackensack University Medical Center). Hackensack University Medical Center also ranked as High-Performing in conditions such as Acute Kidney Failure, Heart Attack (AMI), Heart Failure, Pneumonia, chronic obstructive pulmonary disease (COPD), Diabetes and Stroke. As well as High Performing in procedures like Aortic Valve Surgery, Heart Bypass Surgery (CABG), Colon Cancer Surgery, Lung Cancer Surgery, Prostate Cancer Surgery, Hip Replacement and Knee Replacement. This award-winning care is provided on a campus that is home to facilities such as the Heart & Vascular Hospital; and the Sarkis and Siran Gabrellian Women's and Children's Pavilion, which houses the Donna A. Sanzari Women's Hospital and the Joseph M. Sanzari Children's Hospital, ranked #1 in the state and top 20 in the Mid-Atlantic Region in the U.S. News & World Report's 2022-23 Best Children's Hospital Report. Additionally, the children's nephrology program ranks in the top 50 in the United States. Hackensack University Medical Center is also home to the Deirdre Imus Environmental Health Center and is listed on the Green Guide's list of Top 10 Green Hospitals in the U.S. Our comprehensive clinical research portfolio includes studies focused on precision medicine, translational medicine, immunotherapy, cell therapy, and vaccine development.