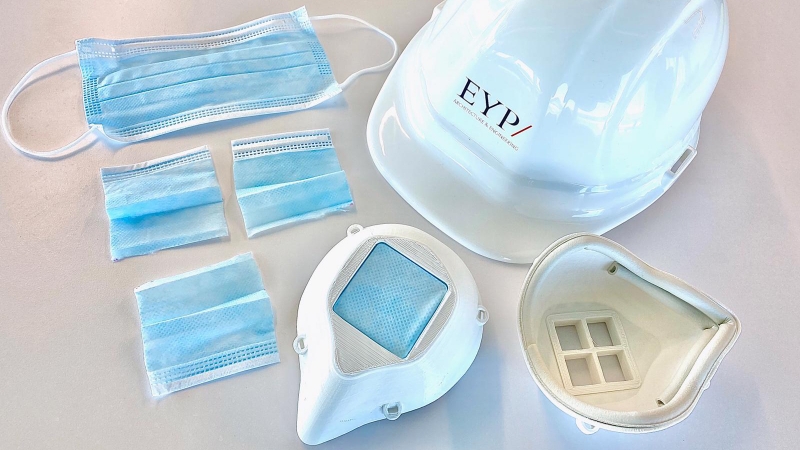 Before guidelines for wearing protective face masks emerged, an EYP task force formed to 3D print personal protective equipment (PPE). Denver Managing Principal Akshay Sangolli used the resources our client at Billings Clinic were sharing online to reposition our technology in support of current societal needs.
Akshay says, "Initially, it was important to be proactive and structure our resources to test 3D printing PPE. When the CDC recommended masks for all, we believed the 'Montana Mask' seemed like a better alternative to cloth masks. While our pace of production limits the volume we can produce, they surely have been helpful and are being used by many of EYP's staff."
The internal task force comprised of Akshay, Senior Designer Yin Jiang, and Houston Managing Principal Tushar Gupta implemented Operation PPE across our offices. Following Billing Clinic's guide, the team successfully printed masks using PLA, a strong plastic filament derived from corn – and yes, it's biodegradable. 

Yin believes that 3D printed masks may help reduce the consumption of regular face masks, stating, "the filter used in one regular mask can be cut up and applied to four to six of the 3D printed masks, thus maximizing its usage." Our team has adopted this practice to leverage resources, since certified N95 masks are hard to acquire due to the heightened PPE needs of our healthcare partners. 
The masks are being distributed to EYP team members required to continue visiting essential project sites nationwide as an alternative to cloth face coverings when certified PPE is not made available by contractors on site. The CDC reports that wearing facial coverings can help prevent the spread of germs to others in situations where social distancing may not be possible.
In addition, the team is printing face shields using a guide from Covid Supply Connection. We at EYP urge those with access to 3D printers to consider printing protective gear – every little bit counts.