After the parades, balcony cheers, and yard signs have faded, what lasting change will let healthcare heroes know they are valued not just during crises like COVID-19, but in all the days that follow?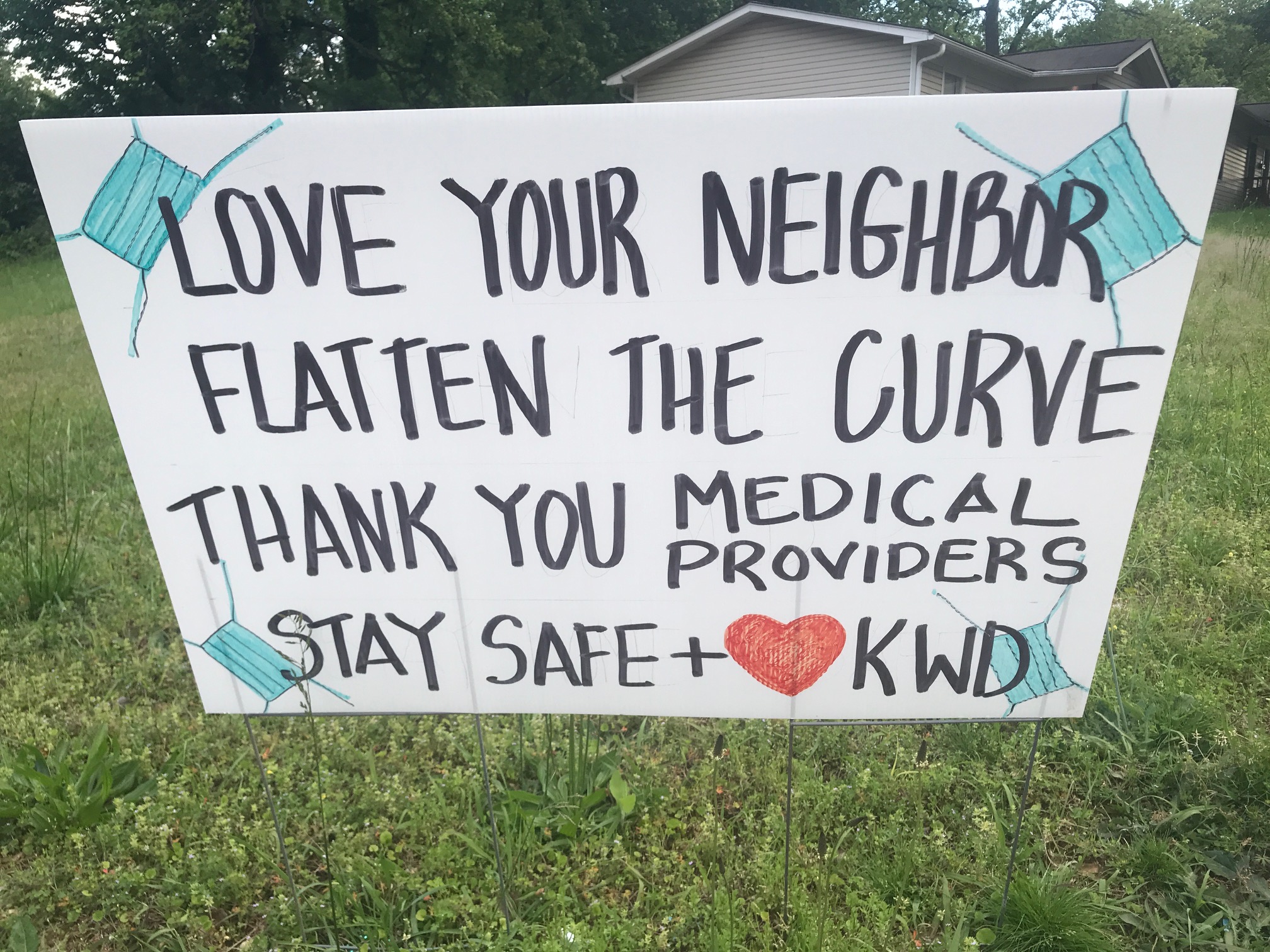 "Historically, the word hero is used to describe someone who fought for our country in war or first responders like firefighters," says Tushar Gupta, managing principal, EYP Houston. "Now, caregivers have been added to that category. We've seen firsthand the courage, long hours, fatigue, and stress. People are concerned for these caregivers' well-being, physically and emotionally. Now is our turn to advocate for them." 
We can't forget that hospitals house a community of employees who show up 24/7, in pandemics, ice storms, and hurricanes, says Laurie Waggener, director of research and associate principal, EYP Houston. "Not only are they healing places for patients, but they must also be healthy workspaces for the people who work there every day and spend most of their time inside, caring for others."
 When reality in the form of square footage and budget limitations strikes, however, space for staff is often the first thing on the chopping block. It's time for that to change. 
"Let's not fall back into old habits of cramming staff into leftover spaces," says Kimberly Stanley, senior principal and health care sector leader, EYP Atlanta. "If we remember one lesson from the pandemic, let it be that it's important for us to care for the caregivers. They are our lifelines."
Let the sun shine in
Good staff respite space comes down to the fundamentals—access to light, a comfortable place to relax, and, ideally, a view of nature. But in any building, there are only so many outward-facing rooms and windows.
"We know that nature is a great healer and stress reducer," Gupta says. "The perimeter of a hospital is prime real estate with many constituents for it, some driven by code and others by priority. Placing staff break areas along the exterior wall is a cultural shift and takes buy in on the part of hospital leadership."
Thankfully, some healthcare systems have made the leap, valuing patients and staff alike. "They know that to recruit and retain talent, they have to take care of them," he says.
Take for example, the new Stamford Hospital, a Planetree Hospital in Connecticut, which includes indoor and outdoor yoga sites, green-rooftop terraces, quiet spaces for relaxation, therapeutic touch, and sound therapy, and outdoor walking trails on the healthcare campus.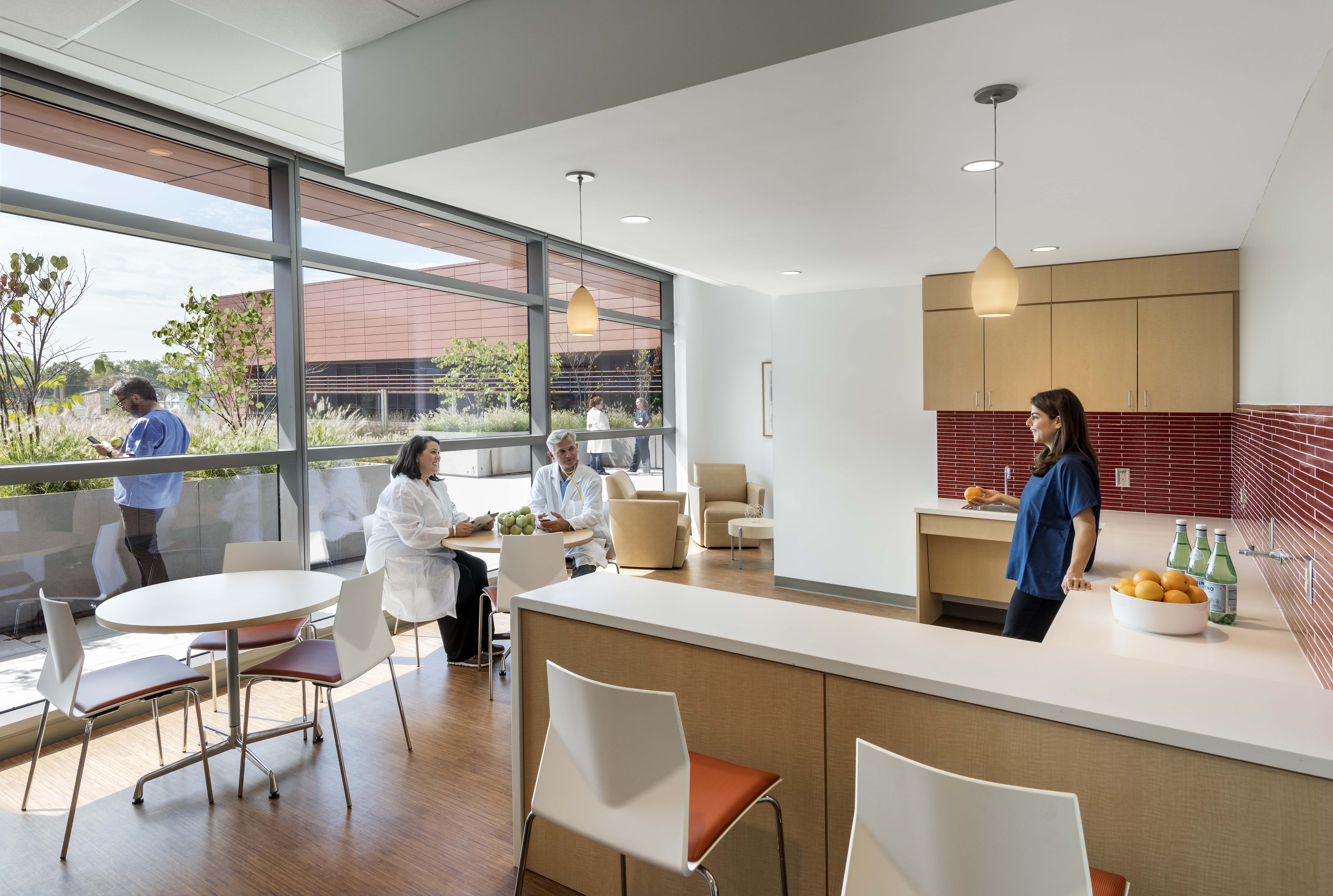 Practical matters must be considered as well, such as access to convenient, quick, and healthy foods. Elevating offerings from vending snacks and soda to local, fresh, seasonal foods readily available is a win-win for busy staff—perhaps with large go-boxes for take-home family dinners on busy nights. 
"Caretakers are always encouraging us to be healthier in our own habits, but often times they're eating on the run and not taking even a minute to relax and refresh," Stanley says. 
Location, location, location
Creating respite areas and relaxing courtyards is one thing: getting busy, Type A medical professionals to use them is another. 
"One of our hospitals had lovely staff breakrooms with large windows and, while some staff used them, the ICU nurses felt they could not in good conscience walk that far away from their patients to take a break," says Waggener. 
Staff expressed that instead of having centralized lounges, they would rather have smaller, more plentiful break areas and hydration stations located near their patient-care areas and workstations. "These small rooms or nooks serve as a spot to get 'off-stage' for a quick drink of water or cup of coffee and then quickly get back to their patients without having to walk to the main staff lounge/break room," she says.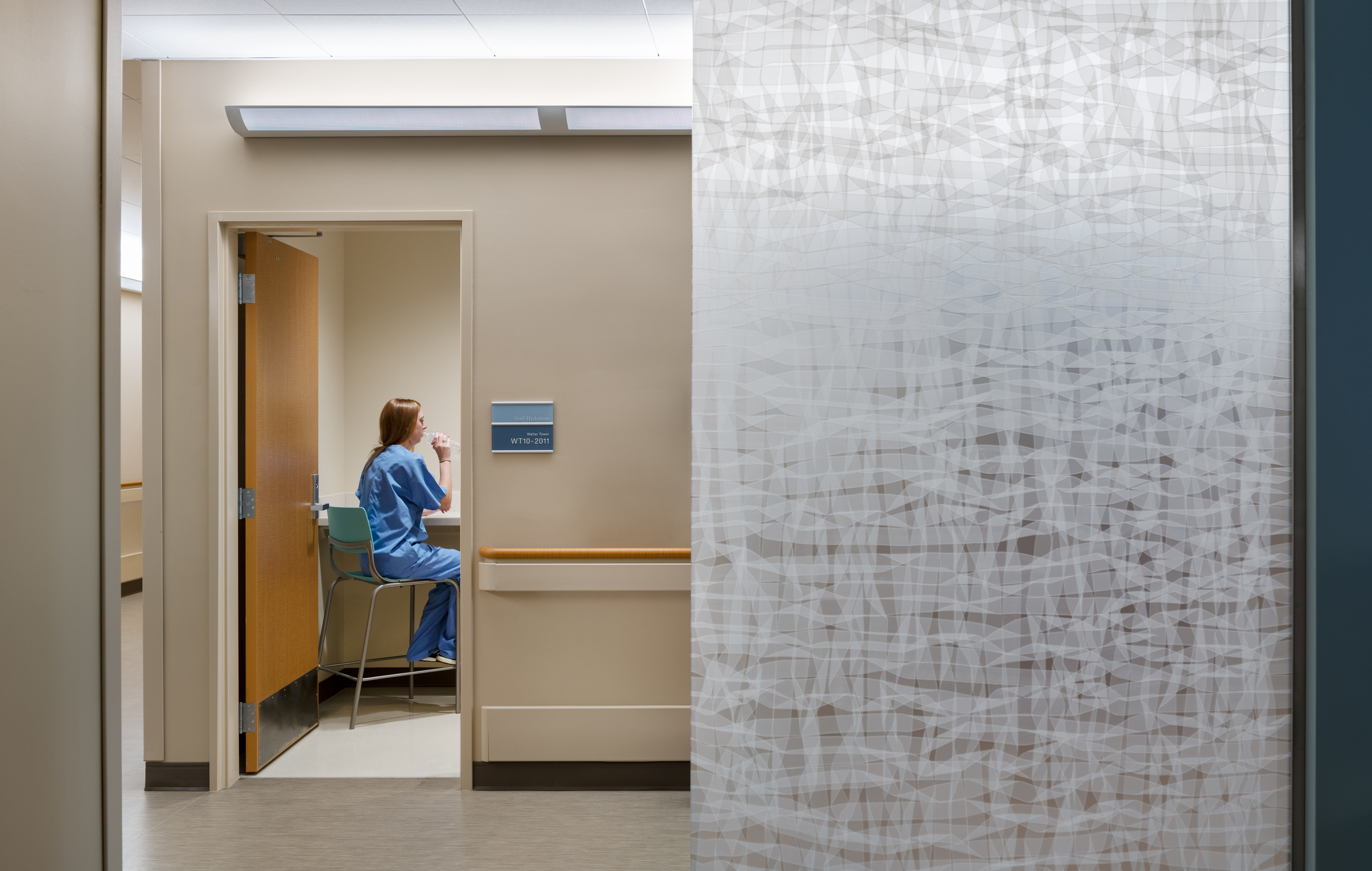 One of Stanley's healthcare clients chose to reduce large, expensive conference rooms and add multiple smaller spaces instead, not much larger than phone booths, for staff. 
"There are times when medical staff members really need to just chill, collect their thoughts, and be human beings," she says. "They may have a patient who is challenging, or one who has died. They may need to take a personal phone call to deal with a problem at home. It's considerate, if not essential, to give them a small nook where they can have some privacy."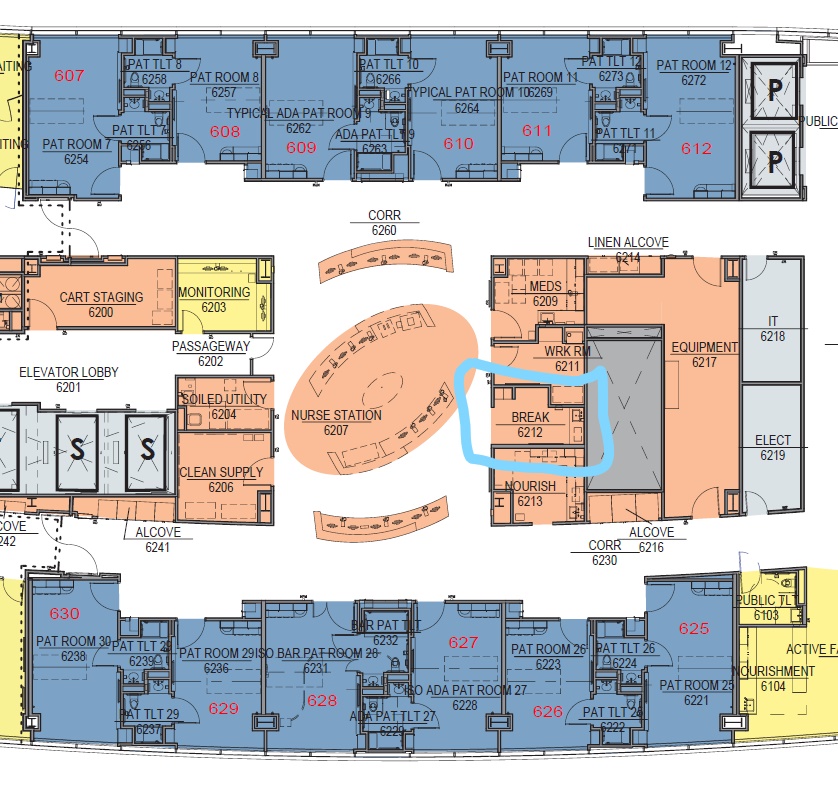 Hospital staff also desired small conveniences that have been done away with in far too many hospitals: Free coffee. Sinks in the hallways. Benches in anterooms or alcoves to put on personal protective gear (PPE).
Waggener says what she hears from staff in healthcare facility performance evaluations is a list of small improvements that would make daily work easier and safer, such as:
Addressing alarm management
Enhanced hands-free door operation
Better stocked shelves in the emergency department, acute care, and critical care
Improved access and management of phone lines to address family concerns
More electrical outlets
"The voice of the frontline practitioner was loud and clear that they are always putting the patient first when expressing workplace needs," Waggener says. "These small but important details and conveniences, as well as proximity to a nearby break area instead of having to walk away from their patients and unit, overruled all else," she says.
Caregiving during COVID
If healthcare workers were stressed before—and they were—this was only compounded by COVID-19, which brought surges of acutely ill, highly contagious patients to their wards.
New protocols in triage, staffing, visitation, patient care, ventilation and disinfection had to be implemented‑-which amounted to not only building a plane in the air while flying it but charting the correct course in flight. 
Infectious patients had to be isolated, leaving hospital staff to serve as liaisons between them and their loved ones. Additionally, healthcare workers lived in fear of getting sick themselves or infecting their families.  
Appreciation should be extended to all hospital workers, who showed up despite their fears and uncertainty. "I think, in a broad sense, the pandemic heightened our focus on not only the medical staff but support staff as well," says Stanley. "The entire population of the hospital has been on call for this."
To that end, comfortable, stylish break spaces should be available to all hospital staff—doctors, nurses, residents, security guards, aides, cleaning and dining crews, residents, therapists.
"Then they can pick where they'd like to sit and eat or work on their laptop, in a pleasing environment with good design," she says. "Choice is really important. Healthcare workers warrant that kind of space and attention paid. It conveys, 'You're important to us.' "
Stanley remembers several years ago, while in the midst of design with St. Jude Children's Research Hospital in Memphis, the physician CEO noted that the lounge space for staff was very sparse.
"We had a limited footprint to work with, and it was packed with inpatient rooms and clinical needs," she says. "He talked at length about the emotional toll that came with caring for children with cancer and pondered whether it would be appropriate to reduce the bed count by one or two to properly accommodate the emotional needs of staff—ultimately making the decision to do so. I have rarely seen that kind of decision making in my career: balancing revenue-generating space with the emotional needs of workers."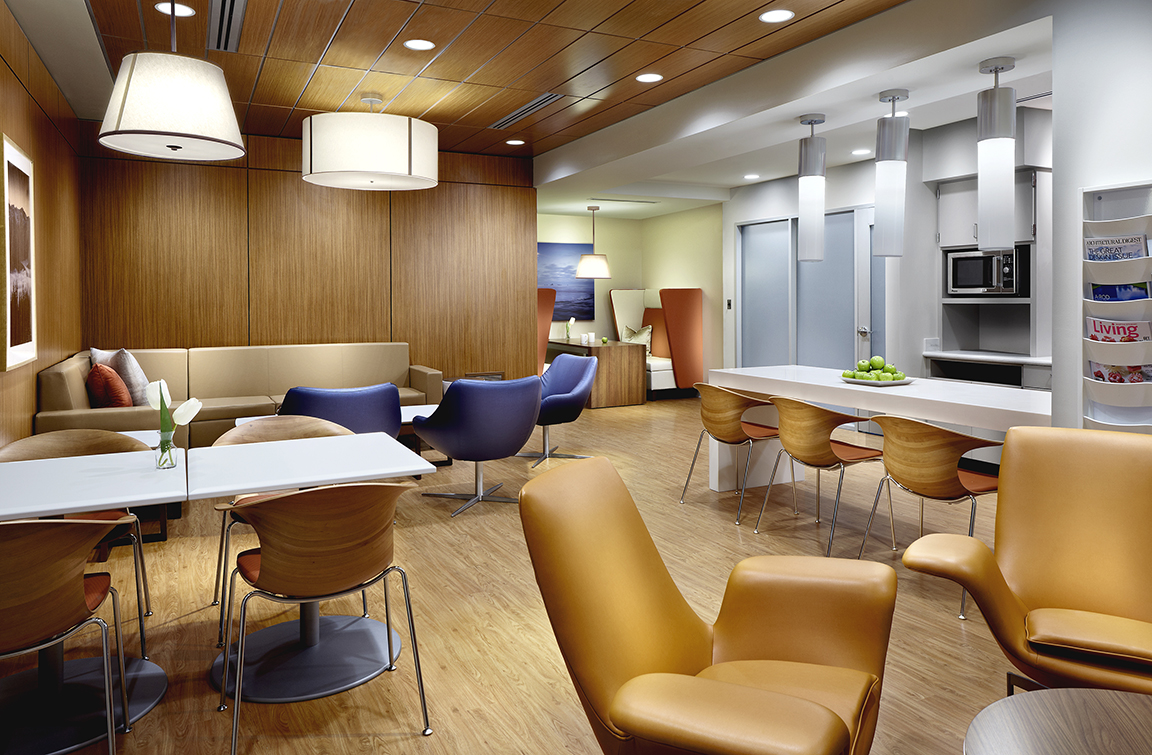 The real rock stars
In a society where athletes get smoothie stations, massage therapists and hot tubs, and rock stars have every whim catered to off stage, how will we treat the professionals who stand beside us during times of illness and death? 
"A culture of fame is a really different culture than one that respects integrity, hard work, and seriousness of effort," Stanley says. 
This will take a shift in and out of hospitals. One that re-examines living wages for all healthcare staff, protects their safety and security, and prioritizes their physical and mental well-being. One that provides care for staff with PTSD after the pandemic. 
We have all seen the images of care providers trying to sleep in hallways and on chairs, desks and gurneys. (There was a Twitter feed that went viral a few years back, where medical personnel posted photos of themselves doing just that.)
"Even on-call rooms are very sparse. There's a mattress and that's about it," says Gupta. "We need a whole new approach in thinking about spaces that match the number of staff in a facility, that acknowledge when they are on-call or have to grab a few hours of sleep before working a double shift."
After all, it is in the public's best interest for those who care for us while we are ill to feel well-rested, supported, secure, and capable.
"If you think about what healthcare organizations are spending today to design and build facilities, it's a lot. Modern hospitals are not cheap," Stanley says. "But their largest expense is their people. Taking care of healthcare workers' needs, helping them improve their own health—that's not just good corporate citizenship, it's a necessary investment."