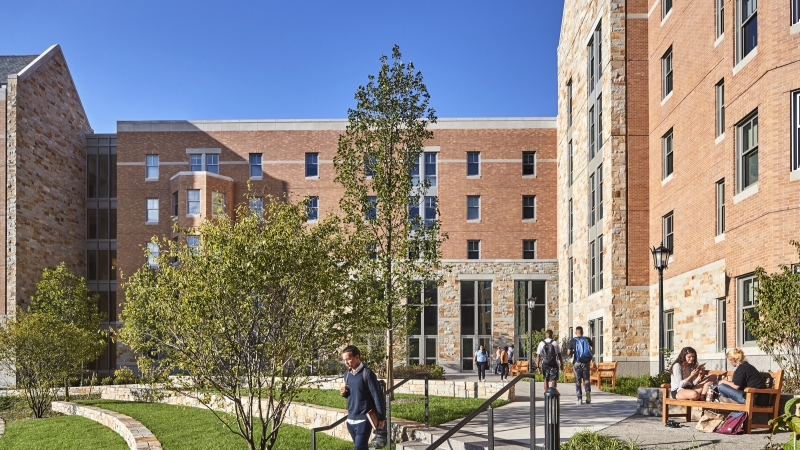 I spend my favorite days on college campuses, watching the quiet summer months culminate into a sudden burst of activity come late August. Throughout the school year, so many families, staff members, and faculty pour energy and resources into making the hum of community possible for students. In the Northeast, it's particularly precious on those first exciting days back to school and again late in the school year after everyone has been cooped up inside for so long. Those moments of community are everything. Now, in the midst of a global pandemic, we wonder: will the ways we build community shift dramatically in the short or even long term?
Every day, as a Principal and Higher Education Project Planner at EYP, I help our college and university partners attract and retain the best students, faculty, and staff. I am also a modern student, part of a large University community and enrolled in an MBA program. This means that I can relate first-hand to the challenges that both campuses and students face today.
Previously, I was convinced that the only way to create a successfully engaged community was in person, with relationships rooted in eye contact and understanding body language. Now, after completing both in-person and online courses, my opinion has changed. Nearly halfway through my MBA program, I've become aware that it is absolutely possible to create community via online learning platforms. These can be vital and nurtured. While some of these thoughts are undoubtedly unique to the graduate level, where students are likely balancing work, family, and education and where self-discipline, self-motivation, and time management skills are essential, some are applicable to the undergraduate level as well.
Here are a few reasons why one of my favorite classes to date was one intentionally delivered as a fully online class:
I unexpectedly learned a lot about people's personalities that I wouldn't learn in person. The same people generally posted early in the morning, late at night, and the same few Sunday before the midnight deadline!
I got to know more of the class in a deeper way in an online-delivered class with a required discussion board. While I became close with my small group in the class that followed an in-person active-learning pedagogy, I didn't get to know many of the others in the room. It was also easier to remember people's names when I saw their names consistently in the online chat.
In-person is wonderful, but flexibility is paramount to working professionals. If I had to miss a class one week due to business travel or a work commitment, it would be great to know I could watch the recorded material another time that same week. Instead, I have had to avoid some classes altogether for fear of conflict coming on a non-negotiable week on the syllabus.
These takeaways informed my thinking for what campus might look like in the future. Now, as both a planner and a learner, I'll share what would give me comfort in a safer experience for the fall semester:
Take the Pulse + Set Expectations
Survey faculty and students on their comfort level with on-campus and virtual instruction.
The best online experience is one that is designed to be that way from the onset. Let faculty serve the curriculum as they choose with enough notice for students to know what they're getting when they register.
Tell me what the physical environment will look like before I have to make decisions. Will we wear masks? Will there be hand sanitizing stations? What happens before class when everyone congregates in the hall? Will there be signage for common spaces, lobbies, stairwells, elevators, and bathrooms?
Determine how to bridge the gap of personal privacy (HIPAA) and students' anxiety level. Perhaps at the beginning of the pandemic, you knew someone in your program had tested positive, but not who. Is it possible to give a level of information that both protects privacy and gives assurances?
Implement HyFlex Learning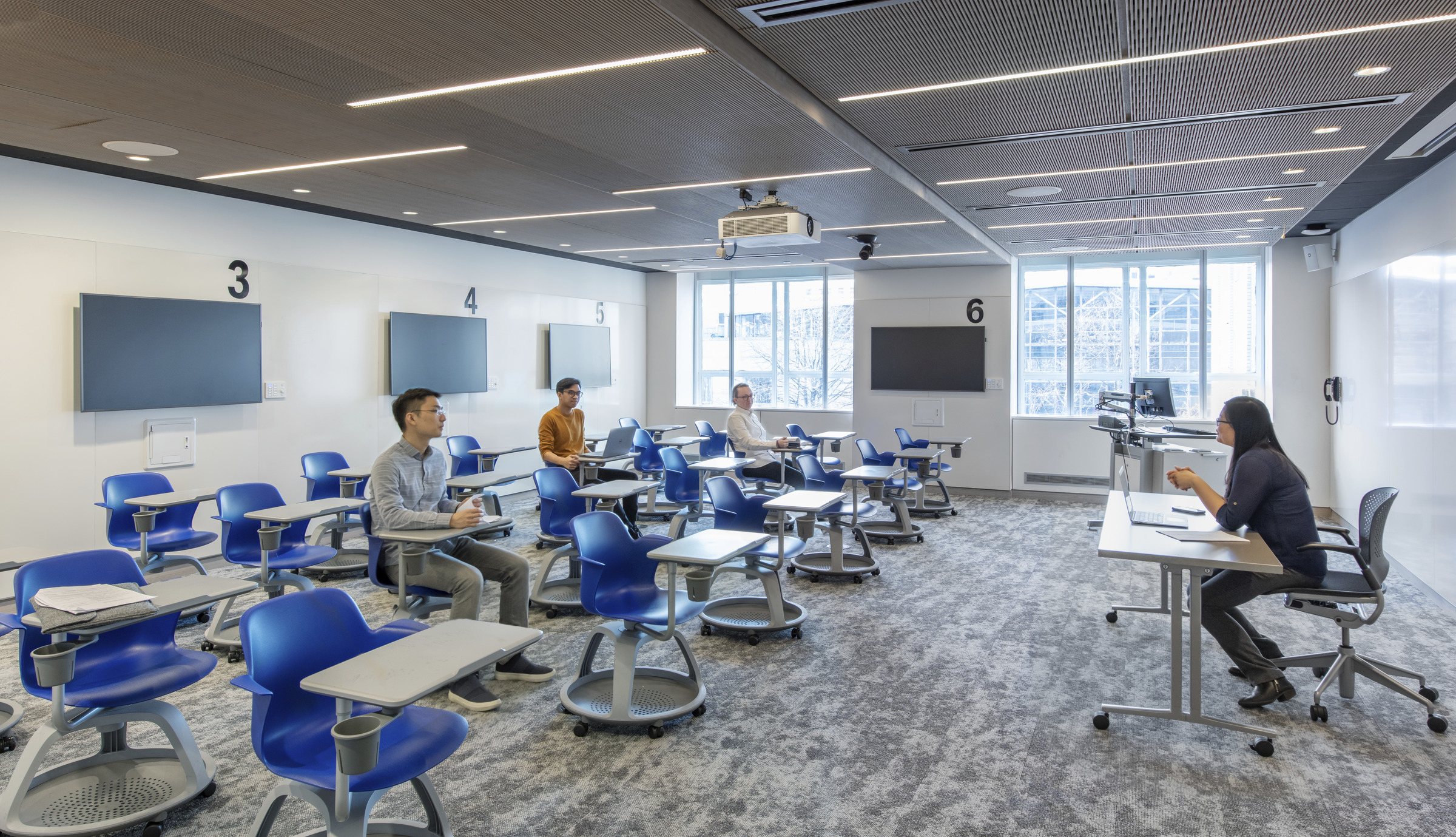 As colleges and universities redefine campus use as well as peer-to-peer and faculty collaboration, non-traditional learning might certainly become the new normal, at least in the short term. Studies have demonstrated the gap in success that comes with education moving fully online, while social, emotional, and content-based engagement remain critical to a learning-centered framework. However, there are steps for maximizing success.
Determine the new capacity of each classroom per local recommended guidelines to provide a snapshot of seats are available for in-person learning in each room. Develop an online system where students sign up for class each week and indicate intention to be in-person or virtual. Once seats are full, the remainder of the class will join virtually.
Install/implement learning capture in some or all rooms. Allow material to be available for all to view after class is over.
Set up an online discussion board and establish "rules," such as a weekly requirement to make one post and comment on two other posts relating to the week's material. This will keep the academic conversation going outside of the classroom.
Meet Us Where We Are
While there is not a one-size-fits-all solution for campuses, and there may not be a common student perspective on how to be a part of the community this fall, there are ways to help ease the transition.
Help students succeed by encouraging self-assessment on how they learn and thrive the best. Genesee Community College, a SUNY campus in Western New York, offers an online Readiness Assessment to help aide students in their decision if a technology-based education is the right fit for them.
Acknowledge that at times like this, flexibility is essential, and success depends on technology, both at the macro (institution) and micro (student access) levels. One example is the turnaround time for the lecture material to be available online. For students, note the responsibility to stay current with the course material, and a recognition that there may be firm final-exam structure.
Follow all mandates and guidelines. Also, be empathetic that everyone is not in the same mindset when it comes to physically being around others right now. Meeting students/families where they're at will be beneficial to all.
While many of us can't be in existing buildings now – at least in full capacity – we can take advantage of what we have. I'm an adult learner, and I'm convinced that HyFlex learning is a solution to creating community and maximizing learning and collaboration even while at a safe distance. With strategic planning, it is all possible.