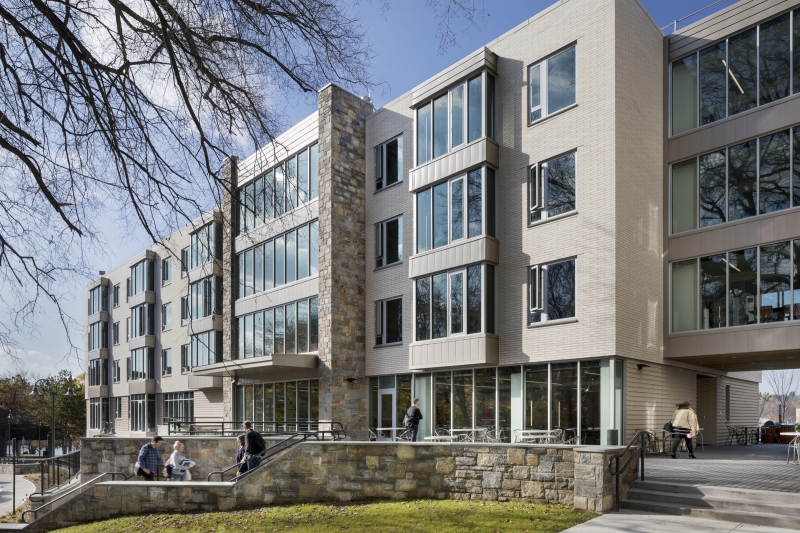 With off-site construction, turnkey delivery is possible without compromising design integrity. The trend of off-site (sub-set term volumetric modular) construction is on an upswing, offering a cost-effective, time-efficient, and safer alternative to traditional design and delivery. A process in which a building (or components of) is constructed off-site, under controlled and safer conditions, it uses the same materials and the same codes and standards as conventionally built facilities – but in considerably less time and with added financial benefits.
Many architects and engineers, though, are hesitant to employ this delivery method, concerned that the process might stifle creativity and innovation in design. In contrast, we've embraced the trend, and strongly believe that when produced in modules then put together on site, buildings can reflect the identical design integrity and specifications of the most sophisticated site-built facilities – without compromising quality, unique design solutions, or profitability.

 

1. Thoughtful collaboration creates a path based on what both the designers and contractors can deliver.
Off-site construction offers a unique way to solve challenges while meeting or exceeding the client's goals, including those for sustainability, resiliency, and time to market. While it does require architects to think differently and embrace manufacturing methodologies, it also allows for complex, sophisticated designs with few limitations. Similar to a traditional process, the design team starts out by meeting with clients and developing plans based on their needs. Buildings created using off-site construction are still held to the same material quality, building codes, and specifications as in traditional construction. Working in partnership within a controlled environment – often at a bench top elevation – can often result in less error and better efficiency, in a much safer environment.
2. Four important drivers: improved schedule, reduced cost, quality control, and worker safety.
Off-site construction occurs simultaneously with site work, allowing "stacking" of workforce (leveraging labor in multiple zip codes) with project completion a significantly reduced time. Leveraging this methodology is not only extremely cost effective with a quicker ROI, but buildings tend to be stronger than those created with conventional site-built construction, because each "module" is engineered to withstand the rigors of transportation and craning into place.
3. Reduced weather related issues.
According to the Modular Building Institute, 60-90% of modular construction takes place in a factory, mitigating the risk of weather delays and climate-related incidents. Especially valuable for areas with unpredictable weather, this places less restrictions on the design and construction teams.
4. Designing for the environment: reduced pollution and less waste.
Off-site construction often provides solutions for difficult sites and an opportunity for limited site disruption. Generating less waste and pollution, it also creates ample opportunity for future refurbishment and/or reuse of materials.
5. More efficient use of labor force.
With highly organized operations along with more consistent working hours and conditions, worker efficiency is at its highest levels with a greater degree of specialization and clearer expectations. Further, the indoor construction environment reduces risk of accidents and related liability for workers.