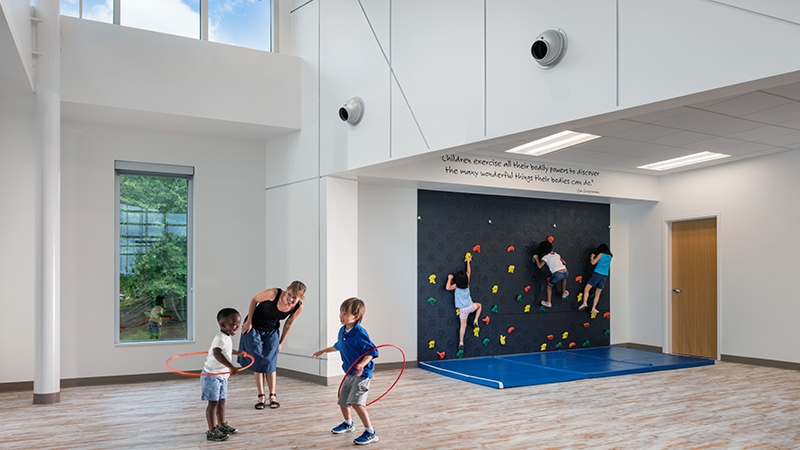 The work-from-home shift of the past year didn't apply to most healthcare workers. Nurses, doctors, therapists, aides, techs, facility workers—all had to show up in person. We rely on frontline workers to do just that.
But how can they if their own families are in crisis? Nearby or on-site childcare centers are essential for healthcare employees who are also parents, a fact that COVID-19 made apparent.
"A lot of parents struggled over the past year. But many of us could stay home with our kids and work from there. Or bring them to work with us if we had to run in," says Vanessa Lampe Heimbuch, a senior project director and childcare facility expert, EYP Atlanta. "For healthcare workers, these were not options."
"Child care is an overlooked and underfunded essential service in our country," she adds.
Helping the Helpers
Hospitals have come to the realization that to attract and retain great staff they need to offer support services, such as child care.
Helping frontline staff take care of family responsibilities—and to know that their children are safe and cared for—enables healthcare workers to show up for the rest of us.
"We are hearing from our hospital clients that nearby child care is something they want to offer, not just as an employee perk but to support their central mission of patient care," says Portia Ellis, a studio design principal focused on pediatric facilities, EYP Atlanta.
Indeed, in Forbes' "America's Best Employers for Women 2019," five of the top seven healthcare systems on the list had on-site child care.
Early in the pandemic, with daycare centers and schools closing around the country, hospitals began to retrofit indoor playrooms for primary school-age children's virtual learning while their parents worked, says Vanessa. But few had fully staffed infant and childcare centers on site.
In survey results from an academic urban pediatric hospital— well before COVID-19 hit— employees with children reported that during a disaster such as an "earthquake or a pandemic," childcare needs would affect their work decisions.
Most employees did not have a childcare backup plan and said they would welcome and use an onsite childcare center. "Provisions for emergency childcare should be an integral part of hospital disaster planning," concluded the authors.
Reading, Sliding, and Climbing
Vanessa and Portia led the design of a childcare center for WellStar Health System, one of the largest hospital systems in Georgia. The Learning Academy at Wellstar Kennestone Hospital, in Marietta, has 17 classrooms, multipurpose spaces, and outdoor play areas.
Walking from a parking deck connected by a covered walkway, parents and children enter the center through a light-filled, two-story lobby. The space's focal point is the "Reading Stair"—a platform for storytelling and communal activities.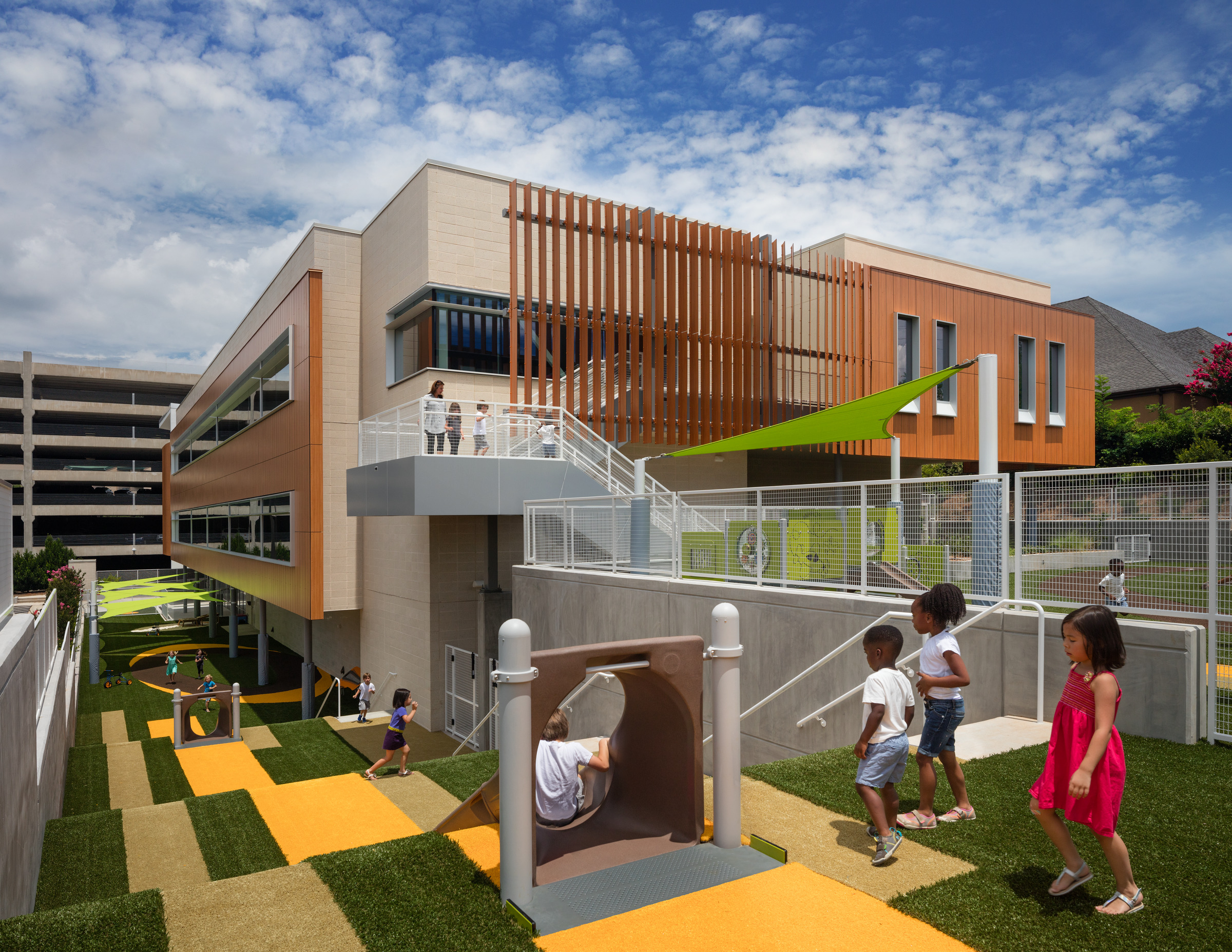 "The building has a lot of fun angles and distinctive elements," says Vanessa. "If you drive around town, a lot of childcare centers are done to look like big houses…one story, wood frame. This is more dynamic, with open space and natural light."
The designers used materials and palettes inspired by nature rather than primary colors, letting "the children and the art provide the color." Classrooms are age-appropriate, designed specifically for, say, toddlers or preschoolers, with furniture, sink heights, and toilets growing incrementally higher from toddlers to preschoolers.
"I remember bringing my daughter to daycare when she was young, and I especially liked that there was flexibility in the rooms, so the teacher was able to keep things fun and recreate her classroom seasonally," Portia says.
Bringing the Outside In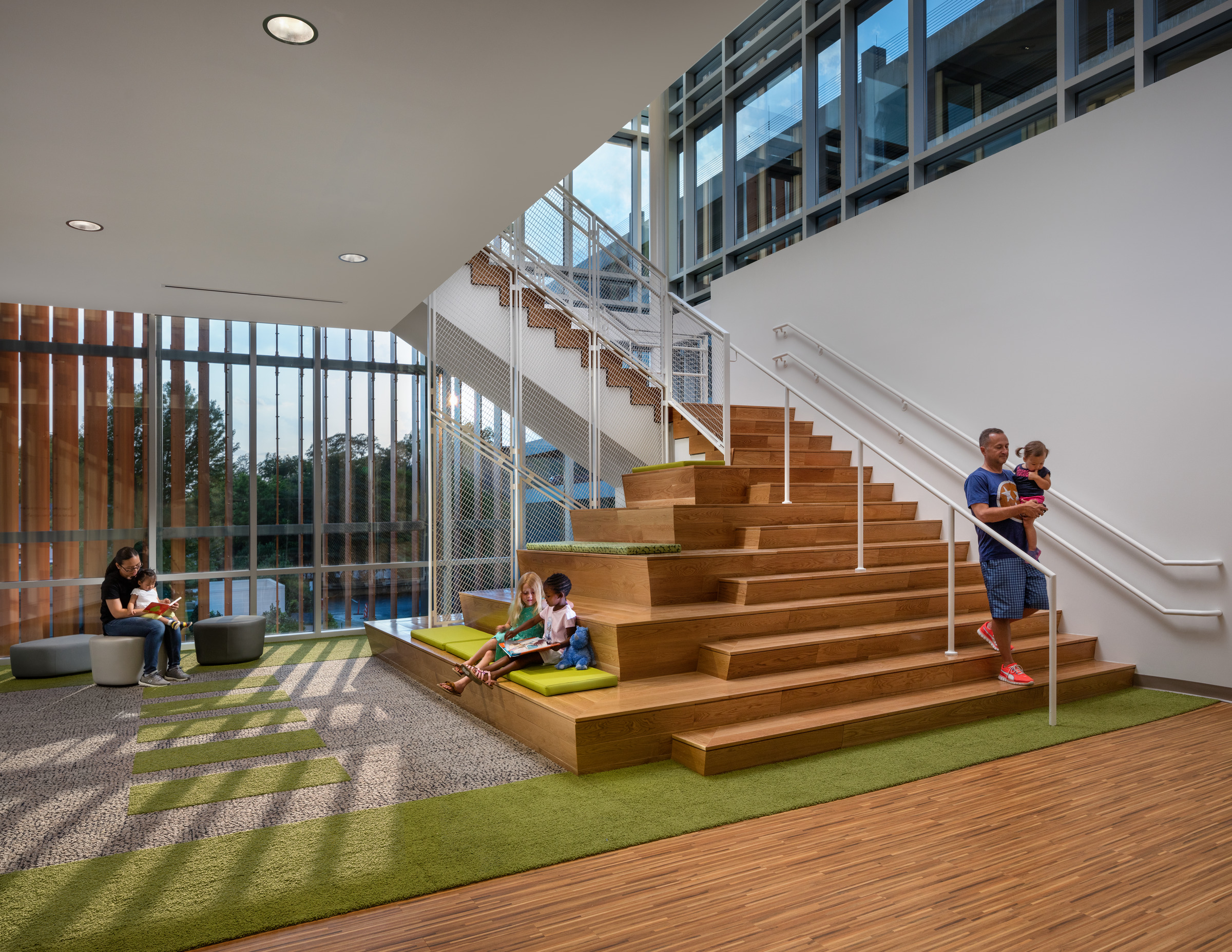 Outside the center, a steeply sloped site gave the opportunity to terrace the playground and create playful ways to move between levels. "You can go to the upper playground using climbing ropes and then use the slides to get back down," says Vanessa.
Building adventurous choices into the environment was intentional, Portia adds: "Just getting between playgrounds becomes a fun journey and circulation and movement become play. It all contributes to wellness."
The designers even mimicked an outdoor setting inside the center, with gravel-patterned carpet and bright green turf, making it feel like outside play when it was too hot or stormy to use the playgrounds. Other special additions encourage inside movement, such as a ballet bar and an interior climbing wall.
And, in a first for a childcare center in Georgia, Wellstar requested that the designers put a small, restful space in for kids who are mildly ill, where they can be cared for by a separate staff and don't interact with the other kids.
"We have a passion for creating nurturing environments," Vanessa says. "Through thoughtful design, these spaces foster socialization, creativity, and a love of learning." And happy kids lead to parents who feel supported and are able to show up for their essential work—a good thing for all of us.