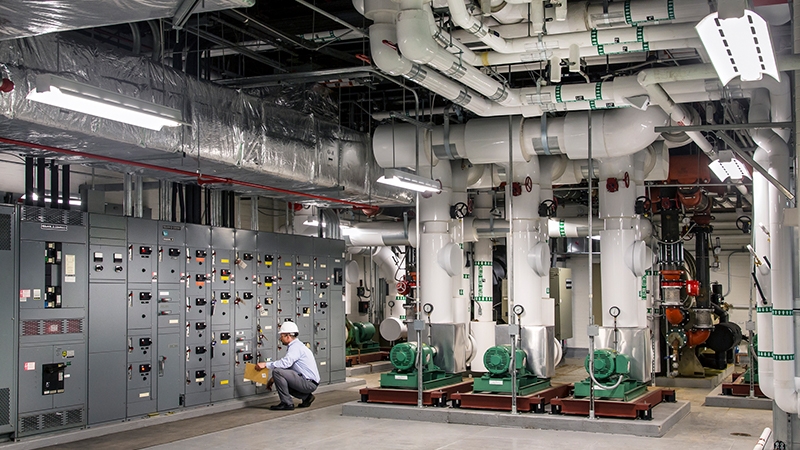 Facility managers do so much more than ensure building operations. As guardians of their domains, they champion occupant comfort, handle strategic planning, promote sustainability efforts, and manage a flood of data.
EYP's Senior Mechanical Engineer Carl Claus believes, "Facility managers know their buildings inside and out. EYP engineers work closely with facility mangers to select the right system for the right location to balance sustainability and maintainability.  We have an opportunity to partner with them to help extend the life of a facility and fight the never-ending battle to control first costs and operating costs."
From Day One
Working with the facility manager from day one improves the bottom line for every project. "It should be a truly integrated approach," says Carl. "The conversation begins with the manager sharing lessons learned about things they've run into on their projects and exploring what technical capabilities they are comfortable with." The team also digs into the client's campus standards and system vendor preferences. "Understanding the full context impacts all our decisions," Carl says.
The Right System
Next, the team considers the right systems for the right locations. For example, projects for the Bureau of Overseas Buildings Operations or State Department often require special consideration. "When you're selecting systems, you want to match the technology with the climate and geographic location," says Carl. "Some areas are extremely wet and humid; others are exceedingly dusty and hot. There are certain types of equipment you do or don't use in those different environments. And you need personnel with the right expertise to take care of the systems once they are operational."
Life-Cycle Cost Analysis
Life-cycle cost analysis also plays an important role when clients consider high-performance objectives such as energy or water efficiency. Building Performance Analyst and LEED AP Raunak Tibrewala finds, "It's important to show the benefit of equipment and systems — what can that equipment and system save in maintenance and operational efficiency?" The engineering team is always considering sustainable alternatives, "and we try to bring two or three solutions to the same problem," Raunak says. "Next, we consider the client's comfort with different technologies and use life-cycle cost analysis to make cost-effective decisions."
Monitoring and Controlling Operational Costs
Sophisticated technology often comes with the added benefit of building automation systems. These systems can help facility managers monitor equipment and offer automatic maintenance scheduling. "Managers also can use similar tools for real-time, predictive energy modeling feedback," Raunak says, "helping to control operational costs."
Maintainability, Durability, and Flexibility
Of course, what the future holds for a facility is often uncertain, so maintainability, durability, and flexibility of equipment are essential. Carl finds that "during modernization projects, facility managers need us to consider if there will be adequate access to equipment. Are there pathways to get large components in and out of the building? How are we going to lift equipment onto a roof? These things need to be factored into the strategic plan."
Support and Resources
The engineering team also supports the facility manager's day-to-day operations with resources like Building Information Modeling (BIM) where equipment data can be embedded into the model.  Gone are the days of dusty binders on the manager's shelves; system information can be embedded in cloud technology instead. And some clients are using EYP to assist with writing their facilities' design standards to document data for future projects – another tool in the facility manager's utility belt.
Facility managers are proof that not all superheroes wear capes. And EYP's engineers are honored to serve alongside them, making their tasks of juggling maintenance and performance just a little easier.