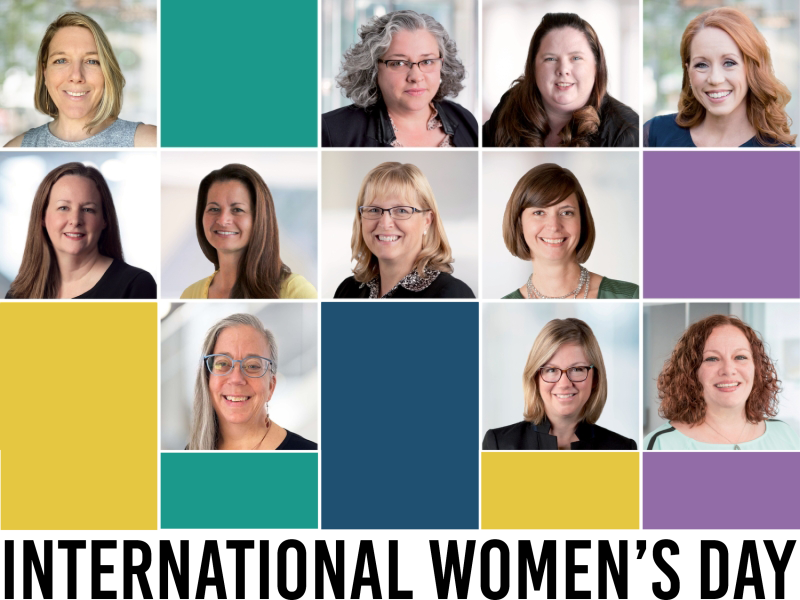 We've been imagining and asking ourselves what's possible for years: not just for our clients and projects, but for every individual employed in our firm. Every day, we endeavor to imagine what's possible and #BreakTheBias consciously — through the way we work and the way we design for diversity, equity, and inclusion — in both the built and in the cultural environment.
As we recognize International Women's Day, and celebrate the day's call to action of highlighting the achievements of women and accelerating women's equality, a look at our firm leadership reflects one way our firm has responded to that call.
Working Toward a More Equitable Industry
In 2021, according to a report by Work With Focus, with data supplied by the US Bureau of Statistics, only 16% of Architecture/Engineering/Construction firms employed any women in c-suite level positions.
Six of the seven top leadership positions in our firm are held by women. Women hold c-suite level positions at EYP, not because they're women, but because they are individuals of great competency, wisdom, experience, and strong, forward-vision leadership. And they happen to be women.
We asked women leading our firm across market sectors and offices to reflect on what being a part of our leadership team means to them. Here's what they had to say: 
I feel that women in leadership positions can either fall into the command/control traditions, or bring empathetic, collaborative, emotional intelligence to the work. At EYP, I have seen that emotional intelligence is well-developed throughout the leadership team, men and women, and it's fulfilling to work in a truly inclusive team. Working here means I can help others to do their job better, including guiding them to find the full potential of the work and their engagement with it.

Jodi Smits Anderson
I see my position as becoming the platform on which the next generation of leaders can stand. Just as my success was dependent on generations of women who worked to provide me with opportunities, part of my focus is to provide the generations after me with a broader foundation, insight, and the tools needed to achieve more than I ever imagined. If the tide lifts all boats, then my position in our company's leadership is to become the tide.

Jane Baughman
I am proud to be a part of EYP, a company whose culture is inspiring, inclusive, and empowering. Having colleagues that challenge what's possible each day and a company that supports that thought creates an environment that enables growth and the ability for everyone to lead change.

Jessica A. Petro
Reflecting on being a woman engineer in a leadership position, it reinforces that EYP was the right fit for me. It is uplifting to have a firm leadership that wants to hear my voice. And it's inspiring to know that I can be a model for the next generation of women engineers to chart their own course as a leader.

Teresa Rainey
As a workplace strategist, I give advice to clients on how to make their work and workplace healthy and sustainable. In my role as managing principal, I feel a strong responsibility to do the same for us. It's a challenge in this business for sure! Our team is so awesome - I just want to support folks being their best selves and achieving their goals. I'm truly honored to be in a position to help.

Leigh Stringer
International Women's Day, initiated in 1911, is still going strong as it reaches its 111th anniversary this year. With each year, and with every individual, corporate, societal, or governmental response to IWD's call, our world moves closer to the IWD goal: global equality for women.