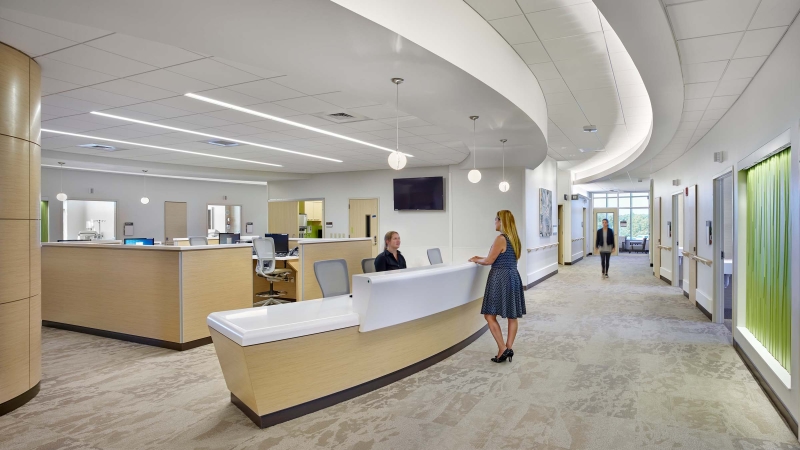 The value of pre and post-occupancy surveys and evaluations is an essential component of evidence-based design, especially in healthcare. Without the feedback of users, it is difficult to know the ultimate impact or unintended consequences of design trends and targeted improvements.
Laurie Waggener, healthcare research director, EYP Houston, participates in such evaluations frequently. The findings are shared in journal articles such as the recent "Lessons Learned from Decentralization of an Elective Surgery Medical-Surgical Unit," in Health Environments Research & Design (HERD). The medical planner was Renee' Fiala, AIA, EYP Houston. Co-authors included Ellen Angelo, DNP, Chief Nursing Officer, Hackensack Meridian Ocean Medical Center, now CNO at Hackensack Meridian Jersey Shore University Medical Center, Apoorva Rane, a doctoral candidate at Texas Tech University, and Debajyoti Pati, professor and Rockwell Endowment Chair at Texas Tech Department of Design. 
This particular evaluation elicited nurses' and patient care associates' perceptions of moving from a centralized to decentralized nurses stations. The survey was conducted at Ocean Medical Center, a community hospital owned by Hackensack Meridian Health in Brick Township, N.J. "We were anxious to elicit the assessment of the staff relative to previous lessons learned from similar projects within the same progressive health system," Waggener says. "We had the unique opportunity to engage within the same health system to sequentially plan, design, and measure results, using the evidence-based design process."
While 10 years have elapsed from the first facility evaluation to this recent, third evaluation, the wait was worth it, she says. Data is applied to the next project with the owner's agreement regarding new design strategies in addressing the "Triple Aim" of patient experience, population health, and cost.
Original vs. New Design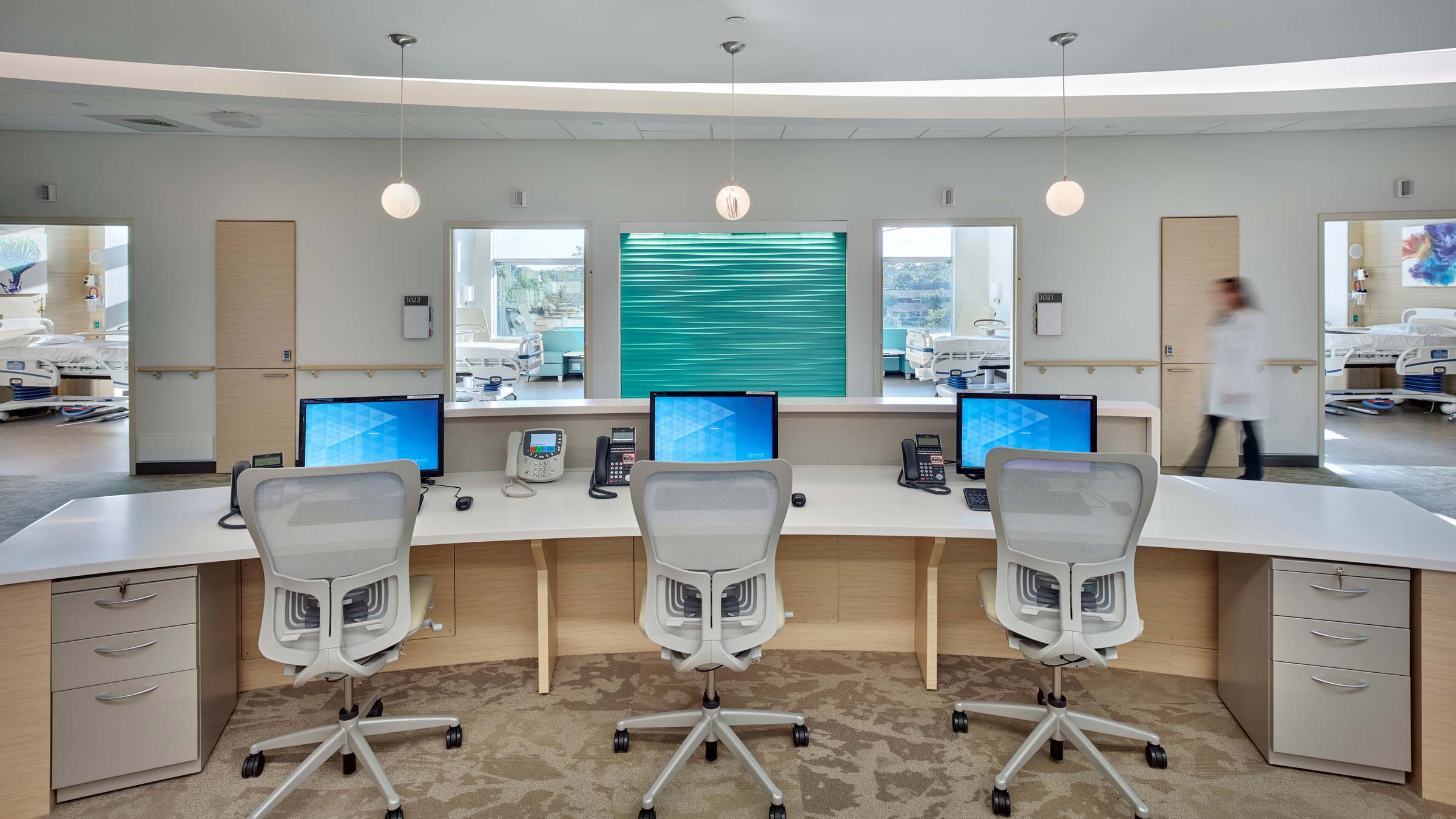 The intent of the survey was to gauge staff perceptions of being supported in the physical environment after changes were made in the design of the med-surg unit.
The original unit design featured a "racetrack" configuration around a centralized nurses station, with support spaces inside the main area. Documentation alcoves and wheeled workstations supplemented the nurses station. Most patient rooms were double occupancy with one toilet shared between two patients.
The new design featured decentralized nurses stations in three 12-bed "neighborhoods," designed to create a more manageable footprint. Curved corridors were used to improve visibility into patient rooms, and the nurses stations had new curved work surfaces to improve peer-to-peer visualization to adjacent neighborhoods. Patient rooms were single occupancy with nested toilets.
"Two problems of visibility we hear from our nurses again and again are seeing into patient rooms and seeing each other," says Waggener. "That was the goal we were trying to achieve."
The new design also was intended to provide easy access to the spaces and items necessary for staff to carry out daily care-delivery tasks. "You don't want nurses to waste time hunting and gathering. That's time not spent at the bedside," she says.
Staff Feedback
Designers conducted a post-occupancy evaluation nearly two years after the move and found that out of 41 survey items about staff perceptions, 12 showed significant differences after the redesign.
Staff reported increased satisfaction with unit design, especially the spaciousness of the new unit, as well as storage room locations, which were perceived as streamlining processes. Staff reported a decrease in the ability to hear alarms from assigned patient rooms and an increase in perceived walking distances relative to supply levels and stocking policies. The authors wrote, "success of a unit cannot be achieved without coordinated and successful interventions in the areas of operations, processes, policies, culture, and physical design."
Waggener says this survey, the third in a series of sequential projects, also provided feedback on how designers can improve patient safety, one neighborhood at a time. "We were able to obtain valuable data addressing one of many pernicious problems in the clinical workplace setting—patient falls," she says. "Through tenacious and empathic design, we are proud to contribute to the gap in the literature regarding building a business case in applying evidence in the practice of healthcare design." The HERD journal's publication of the survey was covered here in Health Facilities Management magazine.