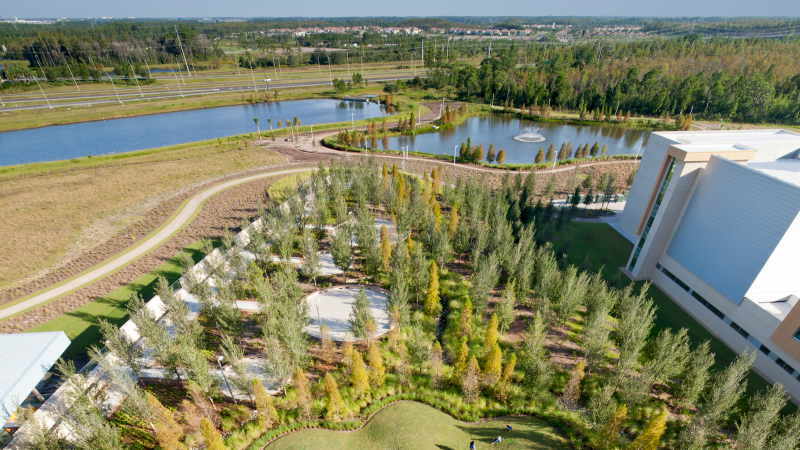 This year's Earth Day theme, Invest In Our Planet, encourages businesses, governments, and citizens to act (boldly), innovate (broadly), and implement (equitably), to preserve and protect our health, our livelihoods, and our planet. 
Today we're excited to share ways we're investing in our planet — through listing our predicted energy consumption and percent savings in our buildings, bringing landscape design in-house, and staying curious about how we can advance sustainability in our designs. 
Committed to Transparency
Buildings generate nearly 40% of annual global CO2 emissions. As designers of buildings and their systems, our firm has a tremendous responsibility to reduce building carbon emissions, embodied carbon, and climate impacts.
Our clients have their own energy saving, climate action, and environmental stewardship goals for their existing and future buildings. Being transparent about how we achieve energy savings and reduce environmental emissions with our building designs helps illustrate how the client can ultimately save money on their utility bills and reduce their greenhouse gas emissions. Two thirds of those emissions from our buildings are from the energy our buildings consume. Calculating predicted energy consumption is necessary to determine methods and technologies to further reduce our buildings' energy consumption.
Our planet is at a critical point. A building being constructed or modernized today will still be in operation by 2030 and needs to be carbon-neutral by 2050 to meet targets set by the United Nations. We have no time to waste, buildings being designed and constructed now need to be efficient and net-zero-ready, if not already net-zero. 
Providing energy use numbers on our website demonstrates our commitment to making every building capable of combating climate change.
How We Calculate Energy Use
We use sophisticated building energy modeling software to predict annual energy consumption. We add inputs into the model such as people, lighting, and equipment. We model the building geometry with thermal properties, and condition the spaces with HVAC systems. All these inputs are balanced with the climatic conditions of the local weather to estimate how much electricity and fossil fuels the building consumes.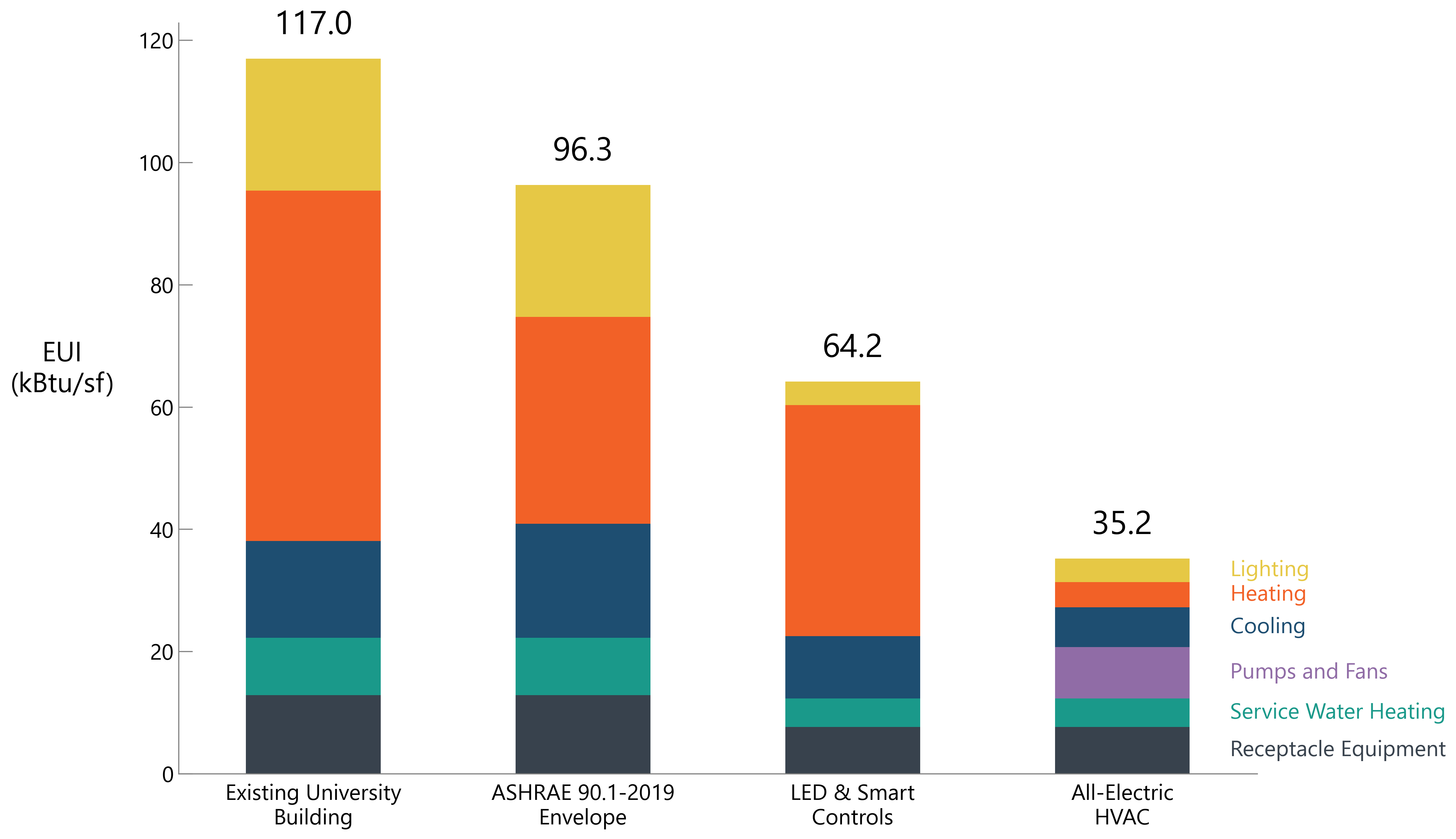 From these estimates we can compare design alternatives such as high-performance glazing or energy efficient HVAC systems to determine what will have the best financial and environmental impacts over the life of the building.
We all need to work together to slow and reverse the impacts of climate change. Providing clear and consistent energy estimates is how we track our progress toward a greener future.
Click here to see and example of how we're displaying energy numbers on project pages across our website.
Creating our Sustainable Landscape Studio
Landscapes are no longer thought of as just providing aesthetic, beautiful designs but also as regenerative and resilient high-performance sustainable designs that influence and inform the built environment.
The decision to add a sustainable landscape design discipline into our services was a natural extension of the firm's long history of sustainable design, our mission, and our values. It allows us to incorporate this sustainable practice early in the design, so the built environment and natural environment inform and enhance each other. This leads to healthier, more productive environments for clients, our communities, and the site itself.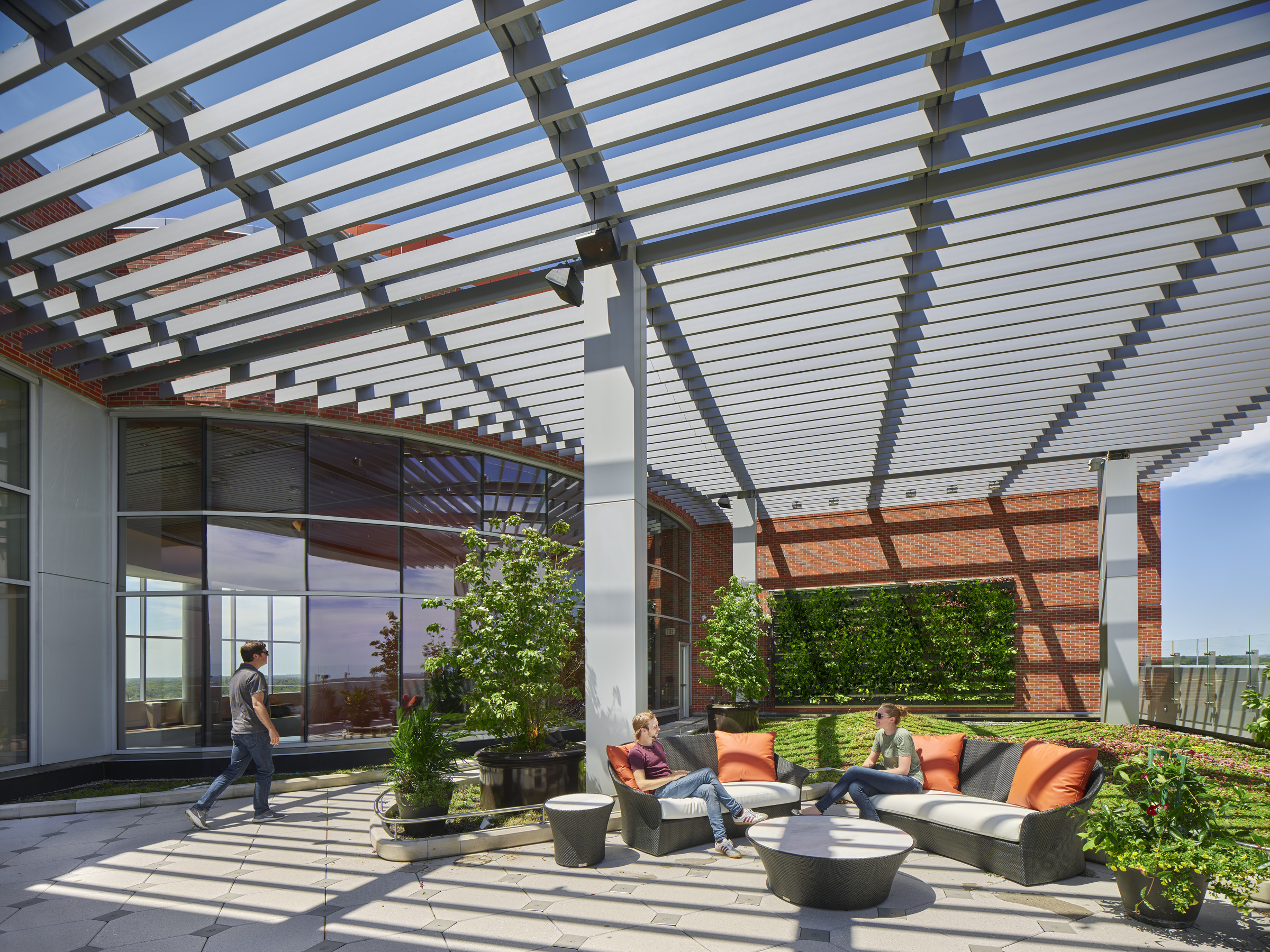 The pandemic has confirmed the importance for us as humans to have opportunities to connect with nature, embedding connections to green space wherever possible within the urban setting, adjacent to workplaces, hospitals, in the plazas around public buildings, and along streets and in miniature park-like settings. As we emerge post-pandemic, the design and use of our outdoor spaces are becoming a higher priority for clients now seeking to enhance their exterior environments with a variety of options for engaging with nature through restful enjoyment, recreation, having conversations, and dining.
As public awareness grows with our current issues of climate change and nature continually reminds us, now more than ever is the time to join collectively with all stakeholders and users to design and implement green and sustainable solutions. To design spaces that are successful not only to our needs as humans but to meet and restore the needs of the natural environment.
Embedding Sustainable Landscapes Into Our Project Work
During proposal and pursuit stages, we incorporate sustainable landscape design from the beginning of the process, looking closely at site drivers to influence building programming and placement. We also focus on strategic collaborations with local organizations as well as sourcing local materials and resources whenever possible.
Additionally, at all stages of design, we have ongoing internal reviews to assess the site for preservation and conservation efforts that might need to be addressed, protected, or highlighted. We also look for opportunities to cultivate campuses where staff and visitors have a stronger physical or visual connection to the exterior environment.
SITES for Success in Sustainable Landscapes
SITES is a framework for the progression of design through construction and post occupancy/management of a site, embedding practices that protect ecosystems. The SITES certification process gives us the opportunity to benchmark our projects against specific performance criteria. It also helps us manage the interventions of building and construction on the site and how to use sustainable/best practices when developing a site.
Staying Curious For Our Clients, Ourselves, and Our Planet
"We need to learn from nature – to be adaptive, resilient, and regenerative with our ideas and practices. Like plants in communities, we need to collaborate and share ideas and innovations. Thankfully we are at a point in time where there is a wealth of information and organizations looking to combat climate change. I find the SITES online platform as a great resource for curiosity, offering many reference materials and opportunities for education and sharing ideas around sustainability."
— Jessica Petro
"As a self-identified computer nerd and self-taught programmer, I love using computers to inform our design process and our buildings' impact on the planet. I truly believe that people can make better decisions when informed with data. I love exploring new tools, processing data, and visualization results to convey opportunities for our designs to do better for our clients and the planet. Computers, software, and AI are all becoming more powerful tools in design. I'm constantly looking for opportunities to use them in helping combat climate change and reduce building environmental impacts."
— Justin Shultz